Video shows clashes between Indian, Chinese soldiers in Ladakh on Aug 15
Ugly scenes of men in camouflages scuffling near a lake, throwing stones at each other, has surfaced, believed to be of the August 15th scuffle that broke out between Indian and Chinese soldiers in Ladakh.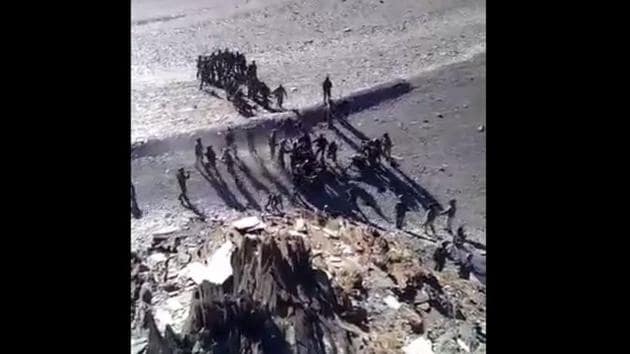 Updated on Aug 20, 2017 10:19 PM IST
A video surfaced on Saturday purportedly showing Indian and Chinese soldiers throwing stones at each other and exchanging blows on August 15 near Pangong Lake in Ladakh, close to the de-facto border between the two countries.
The clash near the Line of Actual Control (LAC) aggravated bilateral tensions as it happened at a time when the two neighbours are locked in a long standoff in the disputed Doklam plateau close to Sikkim.
The army, however, refused comments on the 72-second video shot from an elevated rocky shore with a backdrop of the lake's vibrant blue water at the far end.
"Currently, we have no confirmation of the authenticity of the video," the army said.
When Hindustan Times showed the video to former military commanders who served in Jammu and Kashmir, they confirmed that the visuals are from the Pangong area.
"It definitely looks like that area but it will be difficult to say when it was shot," said a top retired officer. Several serving officers shared similar views.
The video shows around 50 soldiers were involved in the scuffle.
The skirmish happened after Indian border troopers asked Chinese soldiers to fall back when they crossed the LAC, the de-facto boundary, around the lake.
The area is prone to face-offs as two-thirds of the lake is under Chinese control.
Indian and Chinese border officials met at a marathon meeting in the sensitive Ladakh sector a day after the nasty fisticuff and stone attack. The scuffle and ways to maintain "peace and tranquility" in the region were discussed.
The Asian giants have a long border dispute that led to a war in 1962. The festering feud causes around 400 face-offs every year from Ladakh to Arunachal Pradesh.
Close Story