Employee who shot video of manhandling of passenger is the culprit: IndiGo
Indo Asian News Service, New Delhi |
Indo Asian News Service
Nov 08, 2017 07:54 PM IST
A video surfaced on Tuesday showing a passenger, Rajiv Katyal, being manhandled by the airline's staff after a verbal altercation. The incident took place last month.
A new twist to the IndiGo passenger manhandling case emerged on Wednesday as the airline said the apparent whistleblower, who shot the video, was the main culprit in the incident.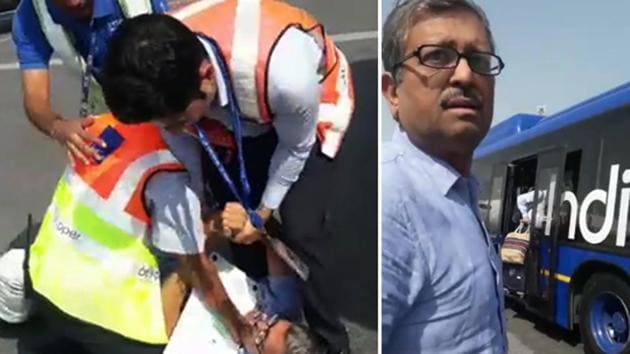 The airline made the revelation in its report which was submitted to the ministry of civil aviation on Wednesday.
Stay tuned with breaking news on HT Channel on Facebook.
Join Now
On Tuesday, Union Minister Jayant Sinha sought a report from budget carrier IndiGo regarding the incident at Delhi airport last month, when a passenger was manhandled by the airline's staff.
The incident which took place on October 15 surfaced only on Tuesday after a video showed passenger Rajiv Katyal being manhandled by the airline's staff after a verbal altercation.
Katyal, who arrived from Chennai, was waiting for the passenger bus at the airport when the incident happened. It is not clear exactly who started the verbal altercation.
The airline, in its report, owned up and clarified that its employee Montu Kalra — since sacked by IndiGo — who shot the video and turned a whistleblower in the manhandling case was the one who instigated the incident.
Civil aviation minister Ashok Gajapathi Raju on Wednesday condemned the assault and has sought an independent report from aviation regulator Directorate General of Civil Aviation (DGCA)
After the video surfaced, social media was abuzz slamming the airline for terminating the services of Kalra.
"At the very outset, let me start off by acknowledging that we were at fault and we not only apologise for this regrettable incident, we have also taken action... I personally called and apologised to Mr. Katyal (the customer) 3 weeks ago," IndiGo airline's president and whole time director Aditya Ghosh said in the report.
"Even during the pendency of the investigation, we recognised that whatever may have been the provocation, my colleagues should have exercised restraint. Even while the investigation was being conducted, we immediately suspended the involved employees."
According to Ghosh, Kalra, whose services were terminated and "is claiming to be the whistleblower, is the one you can hear shouting in the video and instructing the other two colleagues who were junior to him to prevent the customer from boarding the bus and holding him back at the ramp area itself."
"It is important for us to point out that Montu Kalra was not terminated because he either shot a video or, as he is now claiming, brought this to our attention."