Four students washed away in Andhra Pradesh; floods in state's coastal districts but drought in Rayalseema
Updated on Aug 22, 2018 03:19 PM IST
The students had stepped into the water, without realising its depth, and were washed away instantly, police said.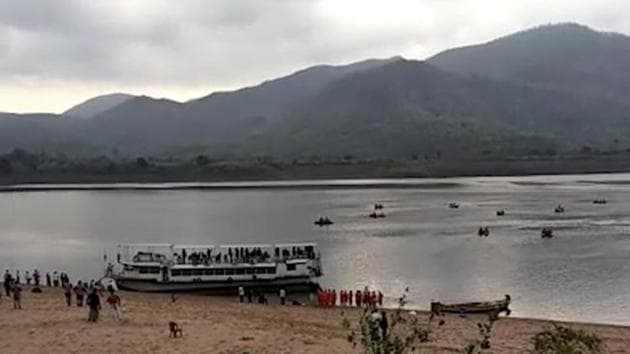 Four students were washed away in the Krishna river in Andhra Pradesh's Guntur district on Wednesday morning, even as heavy floods to Krishna and Godavari rivers in the last four days left a trail of destruction in the coastal districts of East and West Godavari, officials said.
According to the police, eight students from Chirravuru village came to the banks of Krishna at Gundimeda village of Tadepalli block, nine kilometres from Prakasam barrage, in the morning. For the last two days, people were thronging the place to see the river which was in full flow after a long time due to release of over 1.5 lakh cusecs of water from the barrage.
"Four of them – Tadekoru Shiva,14, Neelam Kranti Kumar, 10, Neelam Sasi Kumar, 8 and Dinesh, 7 – stepped into the water, apparently without realising the depth and got washed away instantly. The locals immediately jumped into the water to save them, but since the flow was very swift, they could not catch up with the boys," Tadepalli inspector Brahmaiah said.
Besides police, squads belonging to National Disaster Response Force (NDRF) were also pressed into service to search for the boys. "At around noon, we could locate the bodies of three boys a few kilometres away. We are on the look-out for the fourth body," the police official said.
Though different parts of coastal Andhra, which had been facing heavy rains for the last four days, got a respite on Wednesday, the flood situation in East and West Godavari districts continued to be grim with several island villages still cut off from the mainland due to overflowing Godavari river.
Andhra Pradesh chief minister N Chandrababu Naidu made an aerial survey of the villages marooned in the Godavari river waters to assess the extent of damage.
According to Andhra Pradesh disaster management authority sources, hundreds of people were rendered homeless due to inundation of houses in the island villages of East and West Godavari districts. So far, the authorities had shifted 15,000 people to relief camps, where they are being provided food and other essentials.
The floods to Godavari river and its tributaries caused extensive damage to agriculture and horticulture crops, besides aqua culture ponds for which the two districts are famous. In West Godavari, paddy crop in 6,974 hectares was damaged as floods inundated the fields, while cotton in 634 hectares and horticulture crops in 200 hectares was also affected. In East Godavari, paddy crop in 4,025 hectares and cotton in 634 hectares were damaged due to inundation besides horticulture crops in 1,664 hectares.
While coastal Andhra received more than normal rainfall this season, the situation is in quite contrast in Rayalaseema region, which is still reeling under drought conditions. According to state irrigation minister Devineni Uma Maheshwar Rao, four districts of Rayalaseema had deficit rainfall this season.
While Kadapa district recorded a deficit of 56.4% this season, Chittoor had a rainfall deficit of 44.9%, Anantapur 43.5% and Kurnool 43.1%. Even two south coastal districts, Nellore and Prakasam abutting Rayalaseema also recorded a deficit of 51.6% and 33.8% respectively. The crop in nearly 30,000 hectares in these districts are likely to wither if there was no adequate rains or water supply in the coming days.
The chief minister, who reviewed the rainfall situation at a meeting on Tuesday, asked the authorities to take steps for revival of the crops using rain guns and other technologies.