Four years after ban, acid sales in free flow under Supreme Court's nose
Apr 04, 2017 02:19 PM IST
India has the highest incidence of acid attacks in the world but little is done to stem their occurrence.
On March 24, two men allegedly accosted a woman aboard a Lucknow-bound train and poured a bottle of acid down her throat. A day later, Uttar Pradesh chief minister Yogi Adityanath visited her at a city hospital and offered a relief package of Rs 1 lakh. Her assailants were arrested soon afterwards.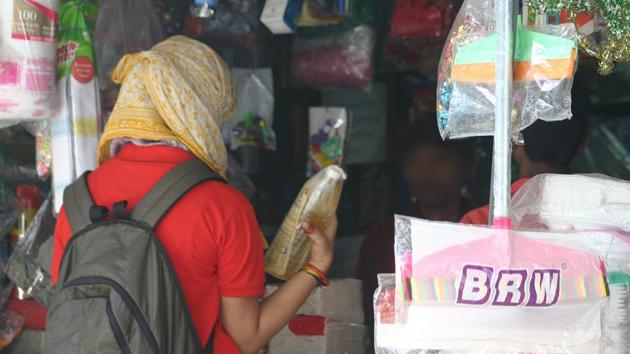 This is the procedure followed by Indian authorities every time a newsworthy case of acid attack emerges. Little, however, is done to stem the occurrence of such incidents.
India has the highest incidence of acid attacks in the world, with the number of such cases rising from 83 to 349 between 2011 and 2015.
The train acid attack was just one of the many that have occurred in Uttar Pradesh lately.
On March 21, a Ghaziabad woman suffered over 50% burns on her face and body after a former boyfriend attacked her under similar circumstances. The solution used in this case was an acid-based toilet cleaner available at provision stores across the country.
Easy availability of acid is the primary reason for India's failure to prevent such attacks. Four years after the Supreme Court ordered every state and Union Territory to outlaw the over-the-counter sale of acid, one can still buy a bottle without much difficulty in various places across the country.
Take Ghaziabad, for instance, where the 19-year-old woman was attacked right outside her house.
A trip to Chopla market in this locality is enough for anybody to acquire a bottle of the potent liquid. When an HT reporter went to purchase a toilet cleaner from a shop located in this area, its owner immediately directed a helper to fetch an ominous-looking bottle from another outlet across the road.
"No conventional toilet cleaner can rid your bathroom floor of stubborn stains," he explained. "Acid can clean anything!"
No identification documents were shown and no questions were asked either. By merely paying Rs 50, the reporter became the proud owner of a bottle of acid.
Sometimes you are spared even the customary walk to the market. Just look out of the window and you can see a bicycle-borne vendor yelling "tezaab khareed lo" for all potential acid attackers to hear.
In neighbouring Noida, a five-litre can of hydrochloric acid can be bought for Rs 100.
A shopkeeper at Harola market was equally confident of its potency. "No Harpic-sharpic can do the job as effectively as tezaab. It will even open choked commodes and remove cement deposits from the bathroom floor," he said.
"But don't let it touch your skin," he added. "You may not like that."
Another shopkeeper in west Delhi's Moti Nagar — located about 15km from the Supreme Court — was more than happy to part with a bottle of acid for Rs 30. He, however, was less vocal about the dangers it may pose.
"This does not seriously harm the skin," he said shortly, turning his attention to other customers.
The Supreme Court order, which was pronounced in 2013, also instructed governments to issue acid-sale licences to select retailers. Any outlet authorised to sell the volatile liquid was mandated to ask buyers for address proof and a photo identity card, so they can be traced in case of an untoward incident. Minors were not allowed to purchase acid, and details of the sale were supposed to be provided to the local police station within three days.
Today, few of these regulations are observed.
The present state of affairs is disconcerting for acid attack survivors who demand more effective action. The campaign is headed by Laxmi, who suffered a horrific acid attack in 2005 by a man whose advances she had turned down.
"Acid is still being sold openly everywhere. During our 'shoot acid' campaign last year, we shot many videos of shopkeepers giving it away freely. Acid can also be procured from small factories that use chemicals in their manufacturing processes. Raids don't help because factory owners are always informed in advance by the local police," she told Hindustan Times.
In 2013, Laxmi had petitioned the Supreme Court to pass an order regulating the sale of acid and rehabilitating victims. "Its orders should be enforced more strictly by states," he said.
Some states, such as Haryana, seem to fare better than others at imposing the rules. The police in Delhi and Uttar Pradesh say they find it hard to monitor all the shops under their ambit.
"We conduct surprise checks at licensed shops from time to time," said a senior police officer in west Delhi.
Zaheer Khan, the station house officer at Noida Sector 58, claimed that the sale of acid in the area is limited to a few closely monitored shops.
"Occasionally, we check whether their supply records are in order. We also ensure that they keep a record of the buyers," he said.
(With inputs from Peeyush Khandelwal, Pawan Pandita, Ipsita Pati and Shiv Sunny)