Woman who survived gangrape, acid attack forced to drink acid on train
Mar 24, 2017 11:26 PM IST
Uttar Pradesh chief minister Yogi Adityanath will visit on Friday a woman who was allegedly forced to drink acid by two men onboard a train, marking the fourth such attack on her by the same group of suspects.

The Uttar Pradesh government announced on Friday security measures and Rs 1 lakh for a woman who was allegedly forced to drink acid by two men on board a train, marking the fourth such attack on her by the same group of suspects.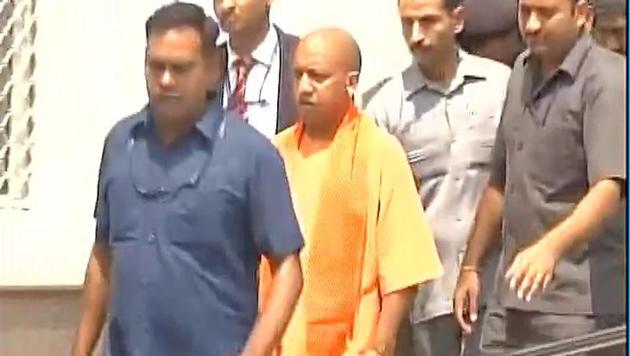 Chief minister Yogi Adityanath visited the family members of the woman on Friday. Women welfare minister Rita Bahuguna Joshi announced the woman and her daughter will get security cover.
The alleged crime came to light after the woman got off the Allahabad-Lucknow Ganga Gomti Express at Lucknow's Charbagh station on Thursday morning and managed to scribble her plight on a piece of paper, which she gave to the government railway police.
The two suspects got on the train on the outskirts of Lucknow and forced her to drink acid around 10.30am on Thursday, sources said.
"Acid probably entered her body and her throat area seems to be affected. She is unable to speak and is in tremendous pain," said Ashish, a volunteer at Lucknow's Sheroes Hangout Café, an outlet run by acid attack survivors where the woman worked.
The authorities called her friends who took her to a local hospital, where the attending doctor said she was currently stable. "No application has been received from the victim's husband as yet. The FIR would be registered only after he files a complaint," said Vinod Yadav, superintendent of police, GRP.
The same group of men have previously allegedly gang-raped her and attacked her with acid, all over a property dispute in her home of Unchahar, 100 kilometres from Lucknow.
She had gone home on March 10 because her daughter was having her Class 10 examinations and was returning to her workplace on Thursday alone, sources said.
"She was gang raped in 2009, and a case was filed in Unchahar. However, no action was taken in the case and the culprits continued to move freely. In 2012, she was attacked with knife with a serious attempt on her life. In 2013, she was attacked with acid," said Laxmi, an acid attack survivor.
Volunteers at her café said she has constantly received threats, some even in January and others targeted at her daughter. "Every time the incident occurred, the accused were sent to jail but were let out on bail soon. There never came a chance when her statements could be recorded and suspect identification could be done by her," said Ashish.
Laxmi has now sought support for the woman on social network and has requested people to press for the arrest of the suspects.
The incident brings the focus back on a menace that has dogged Indian society for decades. Every year, hundreds of similar attacks are reported against women who spurn sexual advances, marriage proposals or caught in community crossfire.
India made acid attacks a separate class of crime in 2013. The courts have promised free medical treatment and the government has moved to stop the free sale of acid but such attacks continue unabated.
The crime also puts a spotlight on UP's dismal record of fighting crimes against women, something that the BJP has vowed to fight against. Law and order was a major poll plank of the saffron party that swept to power earlier this week.