Gau rakshak attacks, anti-Dalit violence didn't rise under BJP: RPI chief Athawale
The Dalit leader also said the Modi government was firm on its commitment to retain caste-based reservations.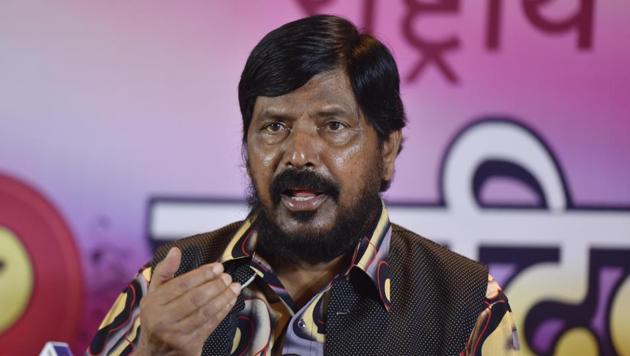 Updated on Jul 05, 2017 08:34 PM IST
Vigilantes who break the law in the name of cow protection do not belong to any political party, minister of state for social justice and empowerment ministry Ramdas Athawale said on Wednesday. The Republican Party of India (RPI) chief also denied allegations that such attacks are supported by the government.
Defending the BJP, which has partnered with the RPI in the National Democratic Alliance, Athawale said it was a false notion that atrocities by cow-vigilantes and attacks on Dalits have increased ever since Prime Minister Narendra Modi took over. "Gau rakshaks do not belong to any party. The Opposition thinks they are BJP supporters, but attacks took place even during the rule of the Congress, Bahujan Samaj Party and Samajwadi Party in Uttar Pradesh," Athwale said during an event to mark his completion of one year in office.
Opposition parties and social activists have flayed the government for failing to rein cow vigilantes, which resulted in the lynching of several people – including Pehlu Khan in Rajasthan this April and Mohd Akhlaq at Dadri, Uttar Pradesh, in 2015. Dalits were also attacked in Gujarat and Karnataka.
The minister said cow protection groups must not indulge in vigilantism. "They should not resort to hooliganism in the name of gau raksha. They can approach the police (if they come to know about a cow being killed). Similarly, those involved in skinning dead cows should not be attacked," he added.
Athawale also said the BJP government was firm on its commitment to retain caste-based reservations. Incidentally, the minister had recently sparked off a controversy by remarking that members of the SC/ST community should be provided quota in the Indian cricket team.
"There are atrocities against Dalits because casteism still exists in society. It is not because of the BJP being in power. (Mahatma) Gandhiji said so much about caste inequality, but the Congress could not eradicate it in the last 70 years of its rule," he said.
Athawale presented a cheque of Rs 10 lakh to the family of Ram Kishen Grewal, an ex-serviceman who committed suicide over the delay in implementation of the One Rank, One Pay demand. The minister also announced monetary assistance amounting to Rs 1 lakh from the RPI coffers, and promised a government job to Grewal's son.
Close Story