Govt plans
₹

65,000-crore project to reduce greenhouse gases from agriculture

The goal of the project, with a run period 2018-2025, is to "sequestrate" 49.9 million tonnes of carbon gasses through improved agro-ecosystems.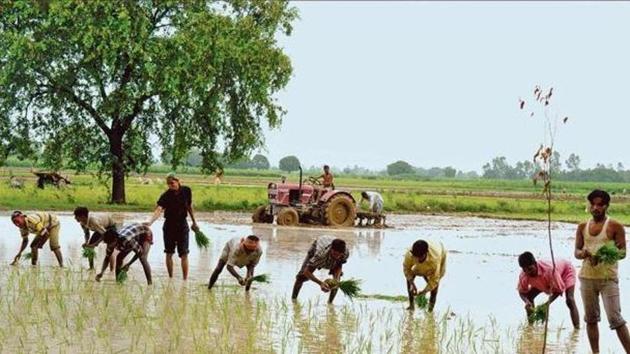 Updated on Sep 24, 2018 07:29 AM IST
India is set to roll out its most integrated programme yet to cut greenhouse gases from agriculture. The project is primarily aimed at protecting the country's five biggest vulnerable ecological landscapes, according to a two officials familiar with the matter.
The programme will cover Madhya Pradesh's Chambal region, Dampa in Mizoram, Odisha's Similipal, Jaisalmer and Barmer in Rajasthan besides a national wildlife corridor through Uttarakhand, the officials said.
The programme, involving the agriculture and environment ministries, is part of a global initiative of the Food and Agricultural Organisation (FAO) and the Global Environment Facility (GEF), a partnership 183 countries, including India.
Each of these critical biodiversity zones – home to over a third of India's 300 million tribals, precious wildlife and forests – face a specific threat from unsustainable agriculture, including large-scale land degradation.
Climate change and agriculture have a two-way relationship. Farming contributes to and is adversely impacted by climate change, according to the United Nations Framework Convention on Climate Change.
The goal of the project, with a run period 2018-2025, is to "sequestrate" 49.9 million tonnes of carbon gasses through improved agro-ecosystems. Carbon sequestration refers to the process of offsetting harmful emissions through mitigation.
"The programme will serve like one national platform to integrate various ongoing schemes for sustainable agriculture," said agriculture ministry joint secretary Alka Bhargava.
Agriculture activities are widely known to emit three kinds of harmful gases: carbon dioxide from soil cultivation, methane from livestock and nitrous oxide from fertilizers. Greenhouse emissions are a significant driver of climate change by trapping heat in the Earth's atmosphere and causing global warming, according to FAO.
In the Chambal region, an area covering 97,982 hectares, the main threats include expanding ravines, sparse vegetation and pollution from chemical-runoffs from agriculture, an official document states. Mitigation proposals include organic cultivation and sustainable grazing of cattle.
In Mizoram, the project will span the Dampa Tiger Reserve and the Thorangtlang Wildlife Sanctuary, covering 145,670 hectares in the Lunglei and Mamit regions. Jhum cultivation has been a major threat to land degradation in the state. In Odisha, the project will be spread over 556,900 hectares, including the UNESCO recognized Simlipal Biosphere Reserve.
Jaisalmer and Barmer in Rajasthan have been picked to create an ecologically sustainable "Desert National Park", spanning 316,200 hectares.
In Uttarakhand, the Corbett Tiger Reserve and the Rajaji Tiger Reserve will be covered, spanning 324,696 hectares in Nainital, Pauri Garhwal, Almora, Dehradun and Haridwar districts.
"The main idea behind the programme is to integrate environmental concerns with agricultural practices and policies," said Jeffrey Griffin of FAO.
The overall cost of implementing the project is US$ 902 million ( ₹65,000 crore approximately), with a GEF grant of US$ 33.5 million. The remaining US$ 868 million will be available through the co-financing route. The GEF, of which India is a leading member nation, works for solutions to the world's most "challenging environmental issues related to biodiversity, climate change, land degradation, chemicals, and international waters". The government has decided to increase India's share of funding to the GEF by 25%, an official said.
Close Story
Personalise your news feed. Follow trending topics