The article has been authored by Neelam Patel, senior adviser and Saloni Bhutani, young professional, agriculture & allied sectors vertical, NITI Aayog.


Published on Nov 16, 2022 10:54 AM IST
Australia has been on high alert for foot-and-mouth disease in its cattle herds as the disease is has ripped through Indonesia in recent months and traces of the virus were found on imported animal products in July.

Published on Aug 09, 2022 10:22 AM IST
The overall monsoon rains in the country were 8% below average in June and 17% above average in July, hence the forecast paints a good picture for the farming sector.


Published on Aug 01, 2022 06:06 PM IST
The unemployment rate in India dropped to a six month low on account of a boost in the agriculture sector due to steady monsoon rains.

Updated on Aug 01, 2022 10:03 PM IST
"The availability of fertilisers in the country is more than the expected demand," an official statement said, quoting Union fertiliser minister Mansukh Mandaviya.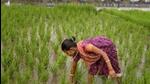 Updated on May 03, 2022 04:07 AM IST