Gujarat elections: Spotlight on AAP's CM face in high-stakes battle
Nov 26, 2022 04:53 AM IST
A former television journalist, Gadhvi entered politics last year and will contest his first election; he is pitted against sitting MLA Vikram Madam of the Congress, and BJP's Murubhai Bera.
Aam Aadmi Party (AAP) workers are busy making preparations to put up posters of their chief ministerial candidate Isudan Gadhvi. One makes a point about neither the Congress nor the BJP declaring their chief ministerial candidates. The poster has a picture of Isudan on one side, party symbols of the Bharatiya Janata Party (BJP) and Congress accompanied by a question mark on the other.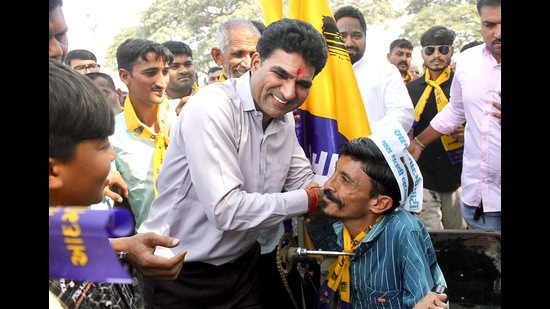 Another poster promises free electricity, world class education and healthcare, government jobs and free pilgrimages.
A former television journalist, Gadhvi entered politics last year and will contest his first election; he is pitted against sitting MLA Vikram Madam of the Congress, a two-time MLA and a two-time MP from the same constituency. The BJP has fielded former MLA Murubhai Bera.
Also Read | Isudan Gadhvi is AAP's chief minister candidate for Gujarat polls: Kejriwal
"During my days as a journalist, I used to raise issues of the people. My show 'Maha Manthan' (on Gujarati news channel VTV) gained much popularity and people felt that it really helped solve their problems. Recently, when I visited a village, Kolava, I met a person who has not watched television since the time I quit the profession. He showed me his broken television and said he threw a remote at it on the day I resigned from the channel," said Gadhvi, who is part of a farming family from a small village near Khambhaliya .
Both Bera and Madam are Ahirs, a community of pastoralists. Out of about 306,000 voters, around 54,000 are Ahirs. There are around 46,000 Muslims, 32,000 Satwaras, 19,000 Dalits, 16,000 Kshatriyas and 14,000 Gadhvis, according to estimates by all three parties.
The area is dominated by cattle grazers and Gadhvi is likely to get some boost after the Gujarat Maldhari Mahapanchayat, the umbrella body of cattle-rearers in the state, on Thursday issued a statement that they would vote against the BJP.
Gadhvi said: "People are fed up with the BJP and we have seen how badly they did in 2017. There is a lot of anti-incumbency. The Congress performed well in 2017 but it is not the same today. It did very badly in the local body elections last year."
Also Read | 'If you want to clean rot…': AAP's Isudan Gadhvi recalls what Kejriwal told him
In 2017, the BJP won 99 seats in the 182-member house, its lowest tally since 1990. In the 2021 local body elections, the BJP won 6,236 out of 8,470 seats across various municipalities. The Congress won only 1,805 seats.
The town of Khambhaliya is near the coast and people are also engaged in fishing, besides farming and cattle rearing. The area is rich in bauxite and also has a number of small factories. Khambhalia houses Russian oil giant Rosneft backed Nayara Energy's refinery. The town is about 30 kms from Reliance Industries' refinery and petrochemicals project.
Omdevsinh Jadeja, a 23-year-old resident of Khambhaliya who is preparing for government exams, said he will vote for AAP. He cited frequent leaks of papers for government job exams as a sign of misgovernance and corruption and said "students will vote for AAP".
In the last five years, several examinations for the posts of non-secretariat clerk, head clerk, constable and village revenue officer have been cancelled due to paper leaks.
While the AAP and BJP's campaign is high profile, with their top leaders like Delhi chief minister Arvind Kejriwal and Union home minister Amit Shah, respectively, holding rallies for their candidates in Khambhalia, Madam's campaign is more personal; he goes from village to village in his constituency.
Madam has been at the forefront of many farm protests in the region, including one in 2012 involving compensation for an oil pipeline project. Madam says he fought his own (the Congress-led UPA at the Centre) to get the farmers their due and claims compensation for a parcel of land of a particular size went up from ₹1 lakh to ₹25 as a result.
"I don't believe in gathering crowds. There was a leader from Gir, Somnath, who gathered a crowd of 22,000 people in one of his rallies but when the votes were counted, he only got 2,200 votes. (AAP convener) Kejriwal is making hollow promises and it won't work here. Isudan is good at delivering dialogues, so I think he should try his hand at movies after this," said Madam.
Khimabhai Ambaliya, a sarpanch from Viramdad village in Khambhaliya constituency, said Madam is a people's person and has been working at the grassroots level for a long time.