Haryana to withdraw 70 FIRs, Jats adamant on disrupting Amit Shah's rally
Head on: AIJASS chief dares govt to impose Section 144 and mobile internet ban during protests.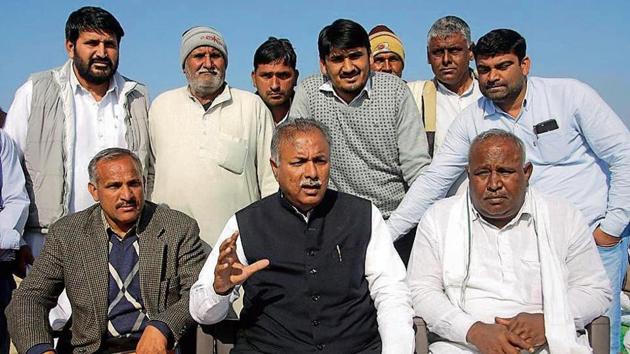 Updated on Feb 08, 2018 11:31 AM IST
Even as the Haryana government announced to withdraw 70 cases against Jats registered during the February 2016 quota stir, All India Jat Arakshan Sangharsh Samiti (AIJASS) president Yashpal Malik on Wednesday said they will go ahead with their plan to disrupt BJP national president Amit Shah's Jind rally on February 15.
At a meeting of the AIJASS core committee in Rohtak's Jassia village, the Jat leader dared the government to impose Section 144 of the Code of Criminal Procedure (CrPC) and ban mobile internet as always in view of the Jat protests.
"Withdrawing some cases will not make any difference. The government needs to withdraw all cases and fulfil all other demands it had agreed to twice during our meetings. If they don't, we are prepared to take our tractor-trailers to choke Jind during Amit Shah's rally. The BJP president needs to know how the government is betraying the Jat community," Malik said.
The Jat leader also asked the state and central government to set a deadline for introducing Jat quota in Haryana. "In Haryana, the matter is pending in the high court and at Centre, the bill is pending in the Lok Sabha. We have got nothing except assurances," Malik said.
He asked the volunteers to ensure to fill the fuel tanks of their tractor-trailers in advance as the government could impose a ban on filling diesel in tractors in view of the protests.
"We will clog all roads in Jind with tractors. We will go to him and ask as why their government is betraying our community," Malik said.
The protest call by the Jat community has made the state BJP nervous, as it planned to welcome Shah with a rally comprising over 1 lakh motorcycles.
Recently, chief minister Manohar Lal Khattar said no one will be allowed to break law and order and peace in the state. He maintained that most of the demands of the Jat community have been fulfilled.
'822 are accused in these cases'
"The orders to withdraw the 70 cases from courts were issued yesterday (Tuesday)," additional chief secretary (home) SS Prasad said. "A total of 822 people were accused in the 70 FIRs. In December, a similar direction was issued for (the withdrawal of) 15 cases in which 47 persons were accused. Similar instructions were earlier given in connection with 138 cases, in which 1,158 people were accused," Prasad said. So far, the government has approved withdrawal of 223 cases, in which a total of 2,027 persons are accused, he said.
On the procedure followed in such cases, he said, "The superintendents of police (SPs) and district attorneys give their report and after examination of these, the state attorney general gives his opinion. Then District Magistrates are then asked to file applications for withdrawal of the cases before the concerned courts".
However, a final decision in this regard rests with the courts, he said. "We have written to the district magistrates, asking them to initiate the process for withdrawal of cases," he added.
Most of the cases pertain to offences like unlawful assembly, rioting, wrongful restraint, obstructing a public official from discharging duty. Prasad clarified that no case pertaining to heinous crimes like murder, was to be withdrawn. In February 2016 Jat quota stir, around 30 people were killed and more than 300 people injured.
Close Story
Personalise your news feed. Follow trending topics