Hazardous air quality across north India, Ghaziabad worst hit
Updated on Dec 21, 2017 11:54 AM IST
Lucknow, Varanasi and Moradabad in Uttar Pradesh, and Patna in Bihar also saw high air pollution levels.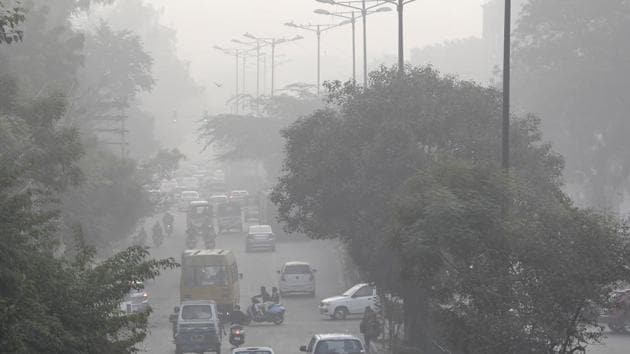 Hindustan Times, New Delhi |
, New Delhi
HT Correspondent
Delhi and other cities in the Indo-Gangetic plain entered another episode of severe air pollution this week and continued to experience hazardous air quality Thursday morning.
Cities in Uttar Pradesh have been the worst hit, but by Thursday, Delhi had also fallen into the severe air quality zone.
Rains caused by western disturbances, an incursion of dry northerly winds, moderate wind speeds and low humidity contributed to improvement in air quality last week, but meteorological conditions are again unfavourable, according to D Saha, at Central Pollution Control Board's air quality lab.
"Winds are from south-westerly directions and are very light, remaining between 5-6 kph for most times. This is similar to what we saw in November. With high humidity and low temperatures, we are also seeing the formation of shallow fog," Mahesh Palawat of Skymet Weather, a private forecasting agency, said.
"The spell of poor air quality is expected to last for another 24–48 hours," he added.
Despite facing similar meteorological conditions as Delhi, some cities in the Indo-Gangetic plain have borne the brunt of poor air quality because they are heavily influenced by local factors.
In neighbouring Ghaziabad in Uttar Pradesh, the air quality index (AQI) maxed out at 500 for over 24 hours. The index, a measure of air quality, measured between 400 and 500, the worst category for air quality. Vehicular pollution, combined with construction and natural dust, contribute to the poor air quality in the city.
Lucknow, Varanasi and Moradabad in Uttar Pradesh, and Patna in Bihar also saw high air pollution levels. Moradabad is the hub of informal recycling in north India and brass industry.
The India Meteorological Department predicted precipitation for the western Himalayan region from a western disturbance this week, but north-western India and the Indo-Gangetic plain is unlikely to see any rainfall in the coming days. Many parts of the northwest are in the grip of a cold wave and ground frost conditions, and temperatures are likely to dip further.
However, when the western disturbance moves eastwards in 2–3 days, it will lead to the commencement of dry and cold north-westerly winds. They will be drier and blow at high speed, leading to disbursement of smog.
Personalise your news feed. Follow trending topics