Heritage sites, festivals from states to be displayed at new Parliament
Published on Jan 25, 2023 12:30 AM IST
The new Parliament will display replicas of the Jain temple in Gujarat, the Konark temple in Odisha, the Cellular Jail in Andaman and Nicobar Islands, the Sanchi Stupa in Madhya Pradesh and the Taj Mahal in Uttar Pradesh, among others, officials familiar with the matter said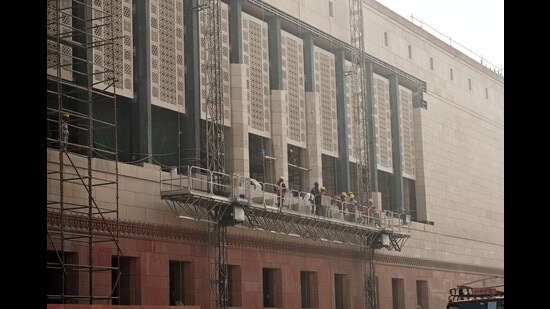 New Delhi: The new Parliament building will display replicas of world heritage sites from each state and capture their iconic festivals through paintings, frescoes or digital adaptions, officials familiar with the matter said on Tuesday.
The new Parliament will display replicas of the Jain temple in Gujarat, the Konark temple in Odisha, the Cellular Jail in Andaman and Nicobar Islands, the Sanchi Stupa in Madhya Pradesh and the Taj Mahal in Uttar Pradesh, among others, they said, declining to be named.
"The new Parliament will be a confluence of cultures, religions, languages, states and events that have defined India," an official said.
The central government will also seek locations or festivals to feature from states that are not typically identified by a heritage monument. In others, where there are multiple such monuments, it will shortlist one that would be displayed. "There are consultations happening at each stage to ensure that there is adequate representation," the official added.
The philosophical sayings that will adorn the Parliament building will be inclusive, displaying wisdom and prayers from across religions, sects and languages, he said.
The new Parliament will have six ceremonial public entrances, and the four walls of the Lok Sabha and Rajya Sabha galleries will be adorned with art from across the country. The sayings will grace the ceremonial foyer.
"The ministry of culture has been in consultation with 75 leading artists and scholars of India to finalise the broader concept for the art installation. We tried to involve as many artists as possible. Every theme for every space was reviewed in detail during 20 odd meetings over past two months. The idea is to showcase India's rich cultural heritage as thematic narrative," a second official said.
The government started in 2019 the Central Vista Redevelopment Project, which includes building a bigger Parliament, new residences and offices for the Prime Minister and the Vice-President, and office blocks to house various ministries and departments along the Raj Path, which has been renamed Kartavya Path.
The foundation stone for the project was laid by Prime Minister Narendra Modi on December 10, 2020.