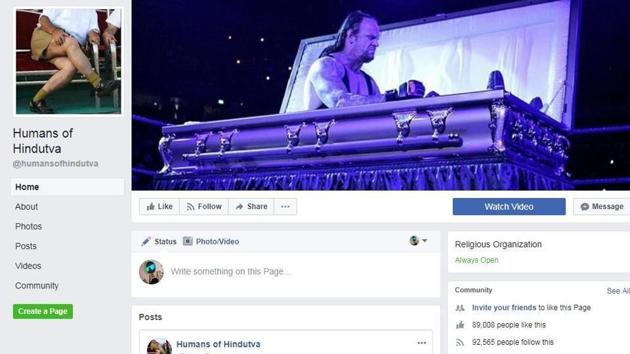 Humans of Hindutva Facebook page taken down after trolls' 'death threat'
Journalist Jairaj Singh wrote in a tweet that the creator of Humans of Hindutva Facebook page feared for his family after his phone number was revealed.
UPDATED ON DEC 29, 2017 08:08 AM IST
Humans of Hindutva, a popular Facebook page that lampoons fanatical Hinduism, was taken down on Thursday after its anonymous creator was reportedly threatened by trolls.
A journalist wrote on Twitter that the satirist feared for his family after his phone number was revealed.
"Had a brief chat with my friend who runs the Humans of Hindutva page. He told me that trolls have got a hold of his phone number and they're sending him death threats. He's scared for his wife and children, so he's shut the page for now. The nation can't take a joke," said Jairaj Singh, who edits the DailyO website.
Facebook users trying to access the Humans of Hindutva page, which has over one lakh likes, got an error message. The satirist who runs the page routinely poked fun at religious fanaticism, moral policing, cow protection vigilantes and superstition.
"I think satire is important in a society like ours which is very sombre and servile," he told Hindustan Times in an email interview in July 2017.
On Thursday, after the Humans of Hindutva page was taken down, The Wire quoted the administrator's website as saying: "I'm quitting out of my own accord. I've not been banned or mass reported. I have recently received some threats to my life which I can't take lightly. I am outnumbered, live in a BJP state and come from a middle-class family with no political or police connections. I have no desire to end up like Gauri Lankesh or Afrazul Khan. Actually, more than myself I worry for the safety of my family. I hope those who threatened me consider this as a victory and leave us alone. I have deleted the HOH page and will delete this website soon. Congratulations to Hindutva for winning this David vs. Goliath fight. As for those who were kind enough to lend me their ears for the last eight months, I'd like to wish you all a Happy New Year. Cheers and alvida. Thanks for giving me some of your time."
In September, he briefly stopped posting on the page after arguing "with people who I thought were on the same side as me" but resumed his writing which has often criticised politicians like Prime Minister Narendra Modi and Uttar Pradesh chief minister Yogi Adityanath.
Close