Hurled stones to protect teammates, says J-K woman footballer in viral protest photo
Footballer Afshan Ashiq and other members of her team, the CM's XI, met Union home minister Rajnath Singh on Tuesday.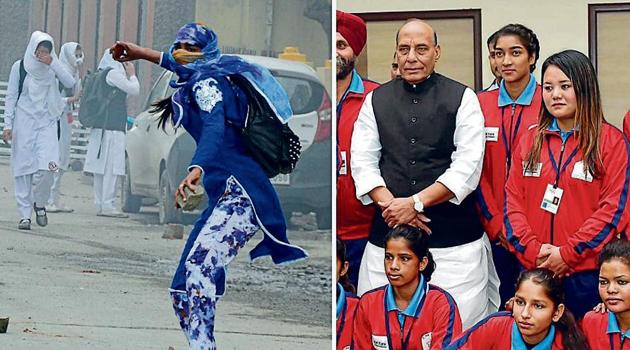 Updated on Dec 06, 2017 06:36 PM IST
A photograph of a 23-year-old college student hurling a stone at security forces, her face covered with dupatta, during street protests in Srinagar's iconic Lal Chowk on April 15 took the restive state by storm.
The image, which was, for many, emblematic of the frustration faced by youth of Jammu and Kashmir, flooded newspapers, websites and television channels.
Many questioned the action of the girl and other females who were confronting security forces in the valley, while other defended their action.
Eight months after the incident, the girl in the picture Afshan Ashiq regrets some of the things that happened on that fateful day. But she has no guilt for her actions as all she did was "defend her team mates."
In the valley she is known for her passion for football. She leads the Jammu and Kashmir CM's XI. She also trains her teammates.
"On that day (April 15) some of my team mates and I were on our way to meet officials of the state sports department to discuss about new equipment that were supposed to be given to us. But on the way, Jammu and Kashmir police personnel stopped us and started misbehaving. Some of the girls were even physically assaulted. Seeing that the team members took the matter into their own hands," Afshan, who was visiting the National Capital, told HT.
There was a massive student demonstration taking place simultaneously across the valley on that day.
The trigger for the protest was a clash that had taken place on April 12 between security forces and students at Pulwama's Government Degree College, 35km from the border state's summer capital of Srinagar.
The problem started when some army officers entered the premises of the institution in an armoured vehicle for a "meeting" with the college administration. Students protested, suspecting that the soldiers were there to pick up someone, and within minutes the demonstration turned violent.
Afshan claims that she and her team, however, were not part of the protest. "I started throwing stones, the first time I had ever done it, only after my team was beaten up and their dignity was trampled upon. I regret the method we adopted to protest, but have no guilt for defending my team. I will defend my team all over again if required," she said.
But the picture gave the budding footballer tag of a stone pelter, making her both famous and infamous at the same time.
She told HT that her parents were afraid of legal action against her and even stopped her from playing football for a month.
Most people she knew in the valley told her that girls should not engage in stone pelting.
"I threw stones only once in my life. But now it seems that my only identity is that of a stone pelter. It does not matter that I am a student, I study arts and most importantly I am a footballer. But for the media I was none of those things," she said.
In the national capital Afshan and her team members met Union home minister Rajnath Singh on Tuesday.
The ministry released a statement detailing Afshan's "u-turn" and even revealed that a popular Bollywood actor would be making a bio-pic based on her life.
"The meeting was a positive step for all young sportspersons of Kashmir. We have been told that the Centre and state government will provide us all the help to pursue our aspirations," she said appreciating the ministry's move.
"But even if I didn't get any support, I would have continued to pursue my dream of playing football at the international level," she added.
When asked if politics came up during the meeting Asfhan said, "Yes, Mr Singh sought our opinion on why some youth in the valley become militants. I responded saying that we are sportspersons and should be not asked questions on what makes a militant".
Close Story
Personalise your news feed. Follow trending topics