I'm a soft target. Have nothing left to give, says fugitive Mehul Choksi
In his first media interview since the accusations surfaced, Mehul Choksi, who is in Antigua and Barbuda, said he was confident that the government of his new country would "protect its citizen" in accordance with the law of the land.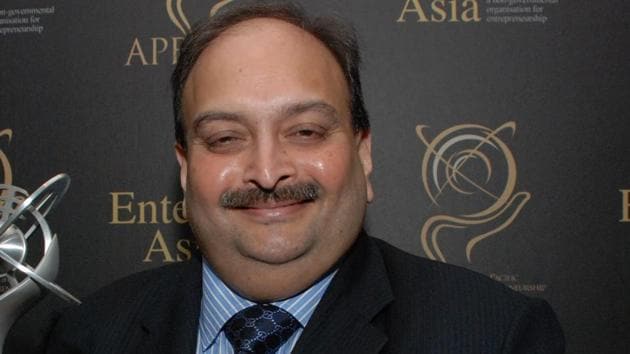 Updated on Sep 10, 2018 07:14 AM IST
Diamond jeweller Mehul Choksi said on Sunday that he is a "victim of political persecution" and a "soft target" for the Indian government because it is finding it "impossible" to get other people wanted for economic crimes extradited from the UK.
In his first media interview since the accusations surfaced, Choksi, who is in Antigua and Barbuda, said he was confident that the government of his new country would "protect its citizen" in accordance with the law of the land.
Choksi and his nephew and fellow diamond merchant Nirav Modi have been accused of defrauding the state-owned Punjab National Bank (PNB) to the tune of Rs 13,500 crore. A multi-agency probe is on against him – involving the Central Bureau of Investigation (CBI), the Enforcement Directorate (ED) and the Income Tax Department – and formal charges have been filed against him by CBI and ED.
"I am being considered as a soft or easy target because the Indian government is finding it impossible to get other wanted persons extradited from countries such as the UK… There were complacencies in the bank operations, systems, procedures guidelines, etc, as many bank officials have been charged for not doing their job according to the banking norms and policies. The bank is squarely liable for the lapses. However, I have been made a scapegoat," Choksi said in an interview that was conducted over the phone and through written responses in an interaction that was facilitated by his legal team.
Asked about his involvement in the fraud, Choksi said, "I do not know the exact financial details because there were officers in my company who dealt with such matters… I know that we have a more than a two-decade-old relationship with PNB."
When asked whether he was still interested in settling the dues with PNB, Choksi said: "My brand value has come to zero… Everything I have has been seized. They can sell off my assets and pay whoever has to be paid. They should take it from ED, I am in no position to return any money."
Choksi's nephew Nirav Modi has been traced to the UK, and India has mounted a legal challenge to bring both of them back to face trial.
India has also been trying to extradite liquor baron Vijay Mallya and former cricket administrator Lalit Modi from the UK.
India had sent a team to Antigua last month to formally ask the government there to extradite Choksi under a Commonwealth provision that allows extradition between two member-countries. India also told Antigua that there was no requirement of an Interpol red notice against Choksi since it is used to locate a fugitive, which has already been done in this case.
Choksi challenged the powers of Antigua's minister of external affairs – quoting Section 9(4)of the Antigua Extradition Act 1993 – to forward the request of any Commonwealth country (such as India) to the extradition court that can even result in provisional arrest. He termed the power as "arbitrary" and said it does not give the person sought to be extradited the right to be heard.
Asked why he had taken Antiguan citizenship, Choksi said he did it to "expand his business", but added that his "human rights were violated" in India due to actions taken by different investigating agencies.
"Besides the treatment meted out to other accused (in the case against him), like denial of permission to meet lawyer and illegal arrests by CBI, made me lose faith in the Indian legal system," he said, and alleged that he was undergoing a trial by media.
"My case was being discussed in panel discussions on prime time TV and in one of the shows suggestions were made to set secret agencies after me to hunt me down and kill me. Because of the above human rights violation, nothing was left for me in India and I had to renounce the citizenship (of India), and now I am an Antiguan citizen," Choksi said.
"Antiguan laws follow English common law principles, wherein human rights are treated at a very high pedestal. I would thus be seeking the same protection as sought by Vijay Mallya (in the UK challenging his extradition to India)," he added.
"Also, the manner in which the events unfolded in the last six months makes it clear that my life would be in danger in India. There have been various reported cases of mob lynching, and in one of the cases an accused was lynched while being inside a jail. There are people who have grievances and anger against me," he said.
In emails to investigating agencies in March this year, Choksi did not speak about not returning to India -- he claimed that his ill health was not allowing him travel and that the revocation of his passport made it impossible for him to travel to India.
He said on Sunday that he was not living a "life of luxury" in the Caribbean nation.
"I am being hounded by media persons of Antigua and India, as they know that I am in Antigua now. I feel extremely sad that serving my country (India) to the best of the ability and after being a patriot and I am compelled to live such a life -- that too at the fag end, in such old age when I need constant medical attention," Choksi said.
He denied that he fled India when the CBI was about to file a case against him. "I was already abroad receiving cardiac treatment and was hospitalised when news of the PNB case broke."
Topics
Close Story