If Adani affair storm in a tea cup, then the cup belongs to PM Modi: Congress
Feb 03, 2023 11:04 PM IST
Finance secretary TV Somanathan on Friday said the turmoil triggered by Adani rout is a non-issue, a storm in a tea cup.
Reacting to finance secretary TV Somanathan's remark that the stock market turmoil triggered by the Adani Group rout is a storm in a tea cup, Congress general secretary Jairam Ramesh said the tea cup, in that case, belongs to PM Modi himself and is no ordinary tea cup. "A responsible senior official has dismissed the Adani affair as a storm in a tea cup. Well, he accepts it as a storm. As for the tea cup, it is of none other than the PM himself. No ordinary tea cup!" Jairam Ramesh tweeted amid the ongoing row over allegations against the Adani Group. Read | 'Baseless allegation': Adani dismisses PM Modi connection for his rise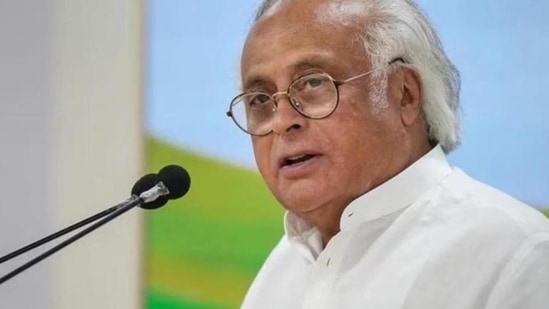 The Congress demanded a court-monitored probe or a joint parliamentary committee to look into the allegations of stock fraud exposed in the Hindenburg report.
On the government side, finance minister Nirmala Sitharaman on Friday reacted to the issue for the first time as she asserted that the banking system of the country is on very solid ground.
Finance secretary TV Somanathan said there is absolutely no concern for the depositors or the policyholders as SBI and LOC's exposure to Adani firms is tiny. The share of any one company is not such as to create any impact at the macro level and so there is absolutely no concern from that point of view," Somanathan told PTI.
"From macroeconomic point of view, this is a non-issue. It's a complete non-issue from our point of view. It's a storm in a tea cup as far as macroeconomics are concerned, not in respect of markets," the finance secretary said.
The Reserve Bank of India issued a statement without naming the Adani Group and said the banking sector remains resilient and stable and under the constant watch of the central bank.
The banking concerns are in the wake of the disclosures of three major banks of their holdings in the Adani Group. State Bank of India has an exposure of ₹27,000 crore, Punjab National Bank (PNB) of ₹7,000 crore, and Bank of Baroda of ₹7,000 crore. LIC has disclosed holdings of ₹36,474.78 crore in Adani group's debt and equity.