IIT-Roorkee students develop inflatable helmet
Jun 25, 2018 10:29 PM IST
The helmet works like an airbag that opens up in less than 100 milliseconds of impact.
Students from IIT-Roorkee have developed a helmet that can be worn like a collar around the neck and inflates like an airbag before impact during an accident.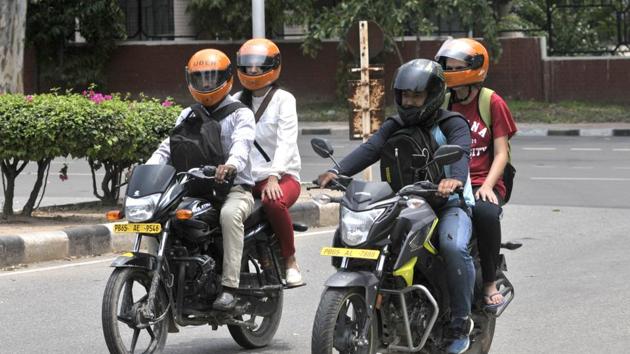 Made of Kevlar, a synthetic fibre used to make bullet-proof jackets, the inflatable helmet offers better protection than traditional ones, said, Rajvardhan Singh, one of the three B Tech students who developed the prototype.
"The traditional helmets protect only against skull fractures and not against internal brain bleeding and damage caused by the rapid de-acceleration during an accident. Our impact assessment showed inflatable helmets can reduce the peak crash acceleration up to four times, meaning it absorbs the kinetic energy generated during the crash and then releases it slowly, lowering damage from impact," Singh said.
The helmet works like an airbag that opens up in less than 100 milliseconds of impact.
"Inflatable helmets developed overseas have not been a commercial success because the sensors used to detect speed and de-acceleration are very expensive. We use sensors that are cheap and easily available..." said Singh.
These helmets are expected to cost as much as traditional ones, which is about Rs2-3,000, compared to the inflatable helmets developed overseas that cost between $3-600.
"In cases of traumatic brain injury, the death rate is 35% in the first 48 hours. Of those that survive, 50% go into a vegetative state and the rest also have some neurological deficits," said Dr Sanjeev Bhoi, professor of emergency medicine, AIIMS Trauma Centre.
"The prototype has proven effective and feasible. We are looking at industrial partnerships to make it commercially available," said Sanjay Upadhyay, professor of mechanical and industrial engineering, who is guiding the team.