In orange cycles for Rajasthan school girls, Congress sees saffronisation bid
Hindustan Times, Kota |
Aabshar H Quazi
Feb 28, 2017 12:38 AM IST
The previous Congress government in state had in 2012-13 proposed to distribute bicycles among girl students, but had not specified any colour
Amid allegations of "saffronisation of education", the Vasundhara Raje government in Rajasthan has started free distribution of bicycles – painted in orange colour — among school girls. A group of class 9 girls at a government school in Kota have now been gifted the new bicycles under a state government initiative to check the drop out rate.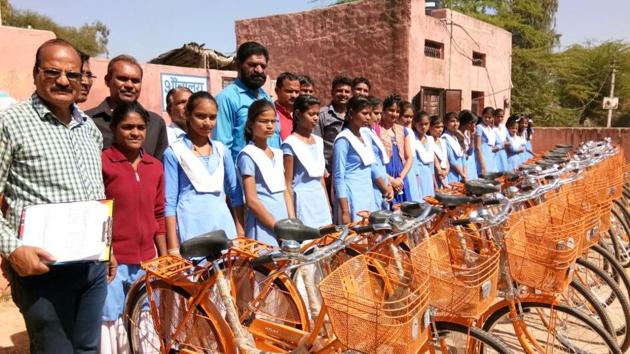 Sources in the state education department informed that 6,283 bicycles would be distributed to as many beneficiaries at 297 government secondary schools in Kota alone.
The previous Congress government in state had in 2012-13 proposed to distribute bicycles among girl students, but had not specified any colour. The bicycles distributed till last year were black in colour. The BJP government, last year, decided to change the colour of the bicycles to "orange" and floated tenders. It had planned to distribute the bicycles on August 15. However, it had to defer the plan after the officials found that most of the parts, including the frame, mud guard and fork, were not in the specified colour. Later a fresh tender was issued.
Education department sources informed that a supply order for bicycles was issued on January 3, under which the firm had to supply 2,95,671 cycles in 120 days. The firm till date has supplied 50,000 cycles, of which half have been distributed in around 16 districts.
Additional district education officer, Secondary education, Kota, Narendra Gehlot, said the bicycles were being distributed among such girl students who live within the 5-km radius of the school. The girls, who live beyond 5-km radius are entitled to transport voucher of Rs 20 per day. Gehlot informed that the distribution started a couple of days ago and will be completed by the end of this week.
Gehlot said that the decision to change the colour of the bicycles was taken by state government and only "higher ups can inform" why it was done, but added the "new colour has made the bicycles look more attractive and distinguishable".
Earlier this month, state education minister Vasudev Devnani too had hinted that the colour change was being carried out to give the bicycles "a more cheerful look".
One of the beneficiaries, 15-year-old Priyanka Meena of Government Senior Secondary School at Delunda, said, "The new colour is a welcome change. The bicycle looks attractive."
Meanwhile, the opposition Congress has termed the move to change the colour of bicycles as another attempt at saffronisation of education in the State. State Congress general secretary Pankaj Mehta said, "First, the Rajasthan government changed the school curriculum and imposed the saffron ideology in it and now it has changed the colour of the bicycles meant for school girls to saffron, which is just an extension of its ideology."
Sources disclosed that a total of 2.95 lakh bicycles would be distributed among the girl students. The total cost has been pegged at ₹86.84 lakh with the cost of one bicycle coming at Rs 2,937.