India expecting investment of $58 bn in energy exploration: Hardeep Singh Puri
Updated on Jan 13, 2023 05:36 PM IST
Puri said the government is taking steps to raise domestic oil and gas production and many global energy giants have expressed interest in the sector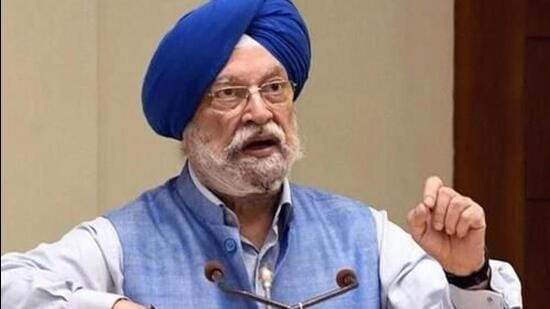 India is expecting an investment of $58 billion in energy exploration and production as it plans to almost double the net geographical area under exploration by 2025, petroleum minister Hardeep Singh Puri said at Global South Summit on Friday adding that oil giants such as Chevron, ExxonMobil and Total are keen to invest in India.
Addressing leaders of Global South countries such as Iraq, Algeria, Bahrain, Belarus, Republic of Equatorial Guinea, Libya, Namibia, Somalia, Syria, Venezuela and Azerbaijan, he said, "Excellencies, the Global South has tremendous potential to emerge as major producers of oil and gas given that we partner to resolve the concerns which countries are facing."
Also Read:India to contribute 25% of global fuel demand by 2040: Hardeep Singh Puri
"Domestically, we have set a target to increase the net geographical area under exploration from 8% or 0.25 million square kilometers to 15% or 0.5 million square kilometers by 2025. And we are expecting an investment of around $58 billion in E&P by 2023," he said.
Puri said the government is taking steps to raise domestic oil and gas production and many global energy giants have expressed interest in the sector. "We have reduced the prohibited or no-go areas in our exclusive economic zone [EEZ] by 99%... opening up nearly 1 million square kilometres for exploration to attract the domestic and overseas investors," he said.
"Several multinational corporations like Chevron, ExxonMobil, Total Energies are showing keen interest to invest in Indian E&P segment," he added.
The minister invited countries of the Global South to join a biofuel alliance under the G20 to help reduce usage of fossil fuel and asked them to join the International Solar Alliance (ISA).
"It is my privilege to welcome you all to the Energy Minister session in the Voice of the Global South Summit, where we as a group will deliberate on the very apt theme of energy security and development road map to prosperity," he said.
"India has taken over the presidency of the G20 in December 2022. It is our endeavour to utilise this opportunity to give resonance to the Voice of the Global South Summit," he said adding that India is willing to share its developmental experience with all countries in the same spirit it had supplied medicines and vaccines to over 100 countries during the pandemic. Puri said India is keen to help the region as around 80% of the world's population lives in Sub-Saharan Africa, South Asia and Southeast Asia are disproportionately poor and vulnerable.
"Excellencies, today the world is facing unprecedented three crisis of food, fuel and fertiliser. We are witnessing extreme price volatility in energy molecules. The most acute impact of this is felt in the Global South. Against these challenges, and despite these challenging circumstances, we in India took several measures to maintain energy security for our citizens," he said citing examples of diversification of supplies, increasing use of alternate energy sources such as biofuels, ethanol, compressed biogas, and meeting the energy targets through electric vehicles and hydrogen.
He informed them about India's recently developed stationary, rechargeable and always kitchen connected indoor solar cooking system. "We have a long way from firewood to kerosene to LPG and now to next generation cooking solution in the form of a solar cook-top. Once it starts commercial production, we will be able to offer this technology to… our friends in the Global South," he said adding that the technology has the potential to change indoor cooking and move towards smokeless and sustainable kitchens.
It is well established that biofuels have associated benefits, such as providing a viable alternative to fossil fuels, waste-to-wealth creation, managing agricultural and municipal waste, decarbonizing transport sector. All these are issues with which the countries of the Global South are grappling with, he said.
"We have increased the ethanol blending in petrol from 1.53% in 2014 to 10.17% in 2022. Which was well ahead of the target of November 2022 by five months. And we have set a target to achieve 20% ethanol blending, which was originally targeted for 2030, but we are hoping to complete this by 2025," he said.
To resolve the common concerns of the global South, India is also proposing a Global Biofuels Alliance under the G20, he said. "The aim of the alliance is to support projects in order to increase the deployment of biofuels and its related technology, offer alternate means of sustainable energy and finally move to its trading among the largest producers and consumers of biofuels," the minister said.
"We stand ready to share our experience and best practice with partner countries of the Global South so that together we can translate our climate pledges into action," he added.