India to contribute 25% of global fuel demand by 2040: Hardeep Singh Puri
Jan 10, 2023 04:19 PM IST
India will contribute 25% of global fuel demand by 2040 and achieve 20% ethanol blending in petrol by 2025, union minister for petroleum and natural gas Hardeep Singh Puri said on Tuesday
India will contribute 25% of global fuel demand by 2040 and achieve 20% ethanol blending in petrol by 2025, union minister for petroleum and natural gas Hardeep Singh Puri said on Tuesday.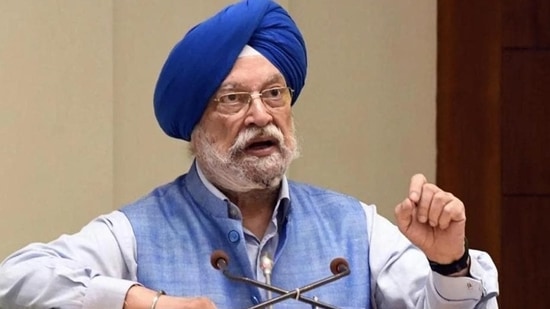 Underlining an increase in the ethanol blending in petrol from 1.53% in 2013-14 to 10.17% in 2022, Puri said that the government's updated target is to achieve 20% ethanol blending in petrol from 2030 to 2025-26.
He said, India increased the number of its crude oil suppliers from 27 countries in 2006-07 to 39 in 2021-22 and attributed the growth to the addition of new suppliers like Columbia, Russia, Libya, Gabon, and Equatorial Guinea while India strengthened its relationship with countries like US and Russia.
The union minister said that the government is also setting up five 2G ethanol biorefineries in places, including, Panipat (Parali) in Haryana, Bathinda in Punjab, Bargarh (Parali) in Odisha, Numaligarh (Bamboo) in Assam and Devangere in Karnataka.
Giving information on E20 fuel, the petroleum minister noted that the phased rollout of E20 fuel would start on 1st April 2023. "The E20 fuel is a 20% blend of ethanol and 80% of fossil-based fuel. The planned introduction of E20 fuel aims to reduce the reliance on fossil-based fuels and to reduce vehicular emissions," he added.
Puri said that the government intends to increase India's exploration acreage to 0.5 million sq. km. by 2025 and 1.0 million sq. km. by 2030. He noted that the government has successfully reduced the 'No Go' area by 99%, opening .91 million sq. km. of acreage.
The union minister also hailed the excise cuts announced by Prime Minister Modi, saying, "Diesel prices, which in India between December 2021 and December 2022 rose by only 3%, went up by 34% in the USA, 36% in Canada, 25% in Spain and 10% in the UK."
The centre has also hiked the rate for Compressed Biogas (CBG) plants under the SATAT scheme from Rs. 46/kg to Rs. 54/kg and is taking measures to ensure bio manure produced during CBG production is bundled with fertilisers like urea.
The petroleum minister also highlighted the government's investment of ₹19,744 crores into the 'National Green Hydrogen Mission' for developing a green hydrogen production capacity of at least 5 MMT (million metric tonnes) per annum. He noted the petroleum ministry would aggressively pursue green hydrogen to support the nascent industry's development.
Oil marketing companies are targeting the installation of alternate fuel stations (EV charging/ CNG/ LPG/ LNG/ CBG) at 22,000 retail outlets by May 2024, the petroleum minister said.