India needs transparent industrial pollution data, regulation reforms
Aug 21, 2018 02:21 PM IST
Though pollution regulators track emissions from industries, a lack of confidence in the data, and incomplete information, prevents it from being put to its best use: ensuring industries comply with standards and lowering pollution levels.
The violent protests against Vedanta's copper plant in Thoothukudi in May 2018, which led to 13 deaths, may be fading from public memory, but important questions about the way industrial pollution is regulated in India, remain. The first being, how much information about pollution from industries is available to the public?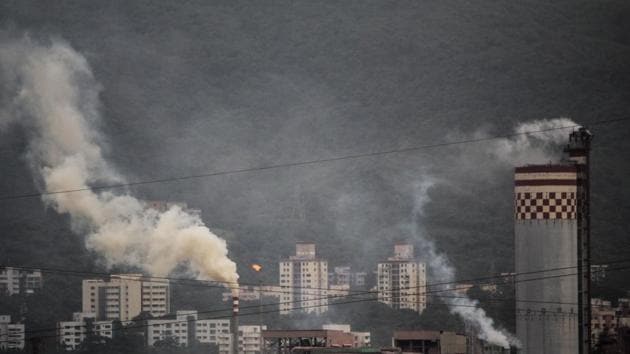 How industries perform on pollution, remains a black box. The public rarely get eyes on official pollution data from industries that are required to share it with regulators. Thoothukudi is not on the list of most industrially polluted areas in India, but even in the 43 areas that are designated as critically polluted, little information is shared with the public about the extent of pollution.
"Though the government seems to be pushing the industries towards continuous realtime monitoring of emissions, the portals where such realtime monitoring information is uploaded by industries are not accessible by general public," said Debadityo Sinha, an air pollution activist at the Delhibased Vidhi Centre for Legal Policy. "Making such information publicly accessible would bring greater transparency and create a degree of accountability of the polluters towards general public," he added.
The Continuous Emissions Monitoring System (CEMS) introduced in 2014 tracks pollution from 17 categories of Grossly Polluting Industries in real-time. However, this data is only available with the state pollution control boards and the Central Pollution Control Board (CPCB).
An RTI filed by HT to access Vedanta's CEMS data is pending with the Tamil Nadu board and CPCB. Sources at the CPCB said that there was a lack of clarity on whether data shared by a private company with regulators could be made available through an RTI.
To capture long-term pollution, a Comprehensive Environmental Pollution Index (CEPI) was designed and applied for the first time in 2009, to assess if the carrying capacity of the region has been breached.
"If a man can carry 60 kg, and you ask him to carry 100 kg, he cannot do it, the body has its limits, so does nature," said Jagat Narayan Vishwakarma, a petitioner in another case in the NGT against pollution in Singrauli, a Critically Polluted Area (CPA).
In the first assessment, of 88 areas were considered, 43 were declared CPAs. A re-assessment is now underway in 100 industrial clusters. The declaration of CPA is supposed to focus attention on an industrial cluster and requires a long-term pollution mitigation plan, and close monitoring of pollution levels. "The areas that were critically polluted in 2009, remain critically polluted in 2015," Aishwarya Sudhir, a Bangalorebased environmental activist, said, adding, "the plans have not worked."
This kind of monitoring has to be done manually and is a resource intensive and time consuming process.
For routine monitoring of grossly polluting industries, pollution regulators rely on a scheme of self-reporting and top-down regulation. Based on data shared by industries themselves, that is periodically checked by the pollution control board and the CPCB, the latter issues warnings and orders. If all else fails, either the pollution regulator or members of the public approach the courts, and the issue gets embroiled in lengthy litigation.
"With rapid industrialisation, it is becoming a need and necessity to regulate compliance by industries with minimal inspection of industries," a 2017 manual on CEMS noted.
"Therefore, efforts need to be made to bring discipline in the industries to exercise self-monitoring and compliance."
CPCB officials said that a lack of confidence in the data being shared by industries is one reason it is not made public.
The question is how to instil that discipline? "If they report any information and it is not correct, what will I do with the information?" A Sudhakar, a senior official at the CPCB, said. "We are only a passive observer, we want them to behave, if they don't, we take action."
Some experts believe the approach has not worked and in recognition, the environment has proposed alternative models to incentivise industries to comply.
A pilot emissions trading scheme (ETS) was proposed by the ministry in 2011 for Maharashtra, Gujarat and Tamil Nadu, the most industrialised states in the country, but it never took off. The idea: Industries that were not complying could purchase 'pollution credits' from industries that were able to achieve a greater reduction in emissions than the standards required.
Such a scheme has its drawbacks, but a major stumbling block in implementing the programme was a well-oiled online monitoring system.
Though pollution regulators track emissions from industries, a lack of confidence in the data, and incomplete information, prevents it from being put to its best use: ensuring industries comply with standards and lowering pollution levels.
Now, three states are again taking tentative steps towards using the data. Maharashtra launched a programme in 2017 in partnership with the Energy Policy Institute at the University of Chicago (EPIC-India), that rates industries based on their particulate matter emissions, and makes this rating public, opening them up to broader public pressure.The ratings rely on manual monitoring data, not real-time monitoring data.
"Environment related data, especially on the performance of polluters, has always been both limited in scope and invisible to the public," Anant Sudarshan, executive director, South Asia, for EPIC-India, said. "It takes a forward-thinking state to make the data public. We have observed that once Maharashtra took the lead, several other states have come forward to do something similar." The biggest hurdle in the success of the schemes is ensuring that the data is robust because the industries are required to install monitoring equipment themselves and self-report pollution levels. That is why the calibration of monitoring equipment and validation overseen by pollution regulators becomes so important.
In Surat, a pilot emissions trading scheme was launched in 2013, and for the past five years, the push has been for better data collection so that trading can start taking place next year. With this programme, Gujarat State Pollution Control Board became the first regulator to take action based on real-time pollution data, but the data is not available to the public.
Odisha is set to launch a programme that will use real-time monitoring data to evaluate and rate industries on the lines of Maharashtra's program.
"It will help raise awareness, and result in better regulation by creating a competition among industries in the area of pollution abatement," a member of the Odisha pollution control board, told Hindustan Times, but declined to be identified because the scheme is yet to be officially launched.
"Environmental regulation in India is in urgent need of reform. We are still waiting for our '1991 moment' in this sector," Sudarshan said, adding that "a combination of higher quality data from CEMS and transparent release of this data also opens up the possibility of using market-based regulation in India, which in other parts of the world has been successful at reducing pollution and cutting regulatory costs."