Indian Railways to source 25% of power needs from renewables by 2025
Apr 06, 2017 05:48 PM IST
Indian railways has the potential to generate 5 GW of solar power by 2025, that will meet a quarter of its power demand.
The Indian railways may source a quarter of its power needs from renewables moving towards its goal of 5GW of solar by 2025, according to a new report by Council on Energy, Environment and Water (CEEW). "We want Indian Railways to become a green engine of growth," Suresh P Prabhu, minister for railways, said at the launch of the CEEW report Wednesday.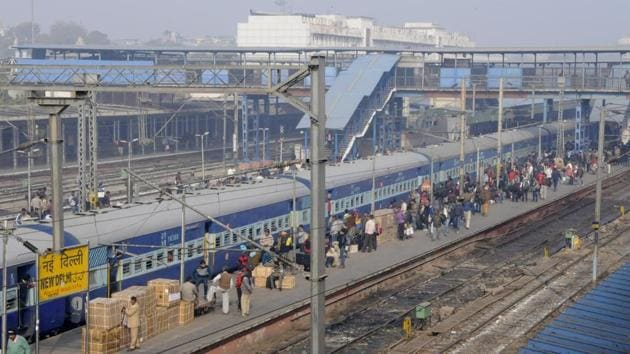 The Indian railways is the largest consumer of electricity in the country, with a majority of the demand (85%) used to run trains while the rest is to meet non-traction demand like use at railway stations.
About 45 percent of India's 66,000 km railway network is electrified. The first major transition for the sector was from steam powered engines to diesel-powered engines and electricity. Today, in a year the railways guzzle about 2.6 billion litres of diesel, one of the dirtiest fossil fuels.
"We have set up a target of electrifying the entire network of Indian Railways in next 10 years with at least 90% of track electrification in next 5 years," Prabhu added.
Electrification may mean less dependence on diesel but it does not mean that it is clean power. The electricity mix depends on the where the grid power is being sourced from. However, moving to electricity-powered locomotives and owning solar and wind power projects is a big step towards decarbonisation for the Indian railways.
The energy demand for the railways is set to triple from current levels to 49 terawatt-hour (TWh) by 2030 because growing passenger footfall.
Sourcing that quantum of energy from clean sources will be a massive challenge, but the move towards generating cleaner power on railways- owned land opens up a huge market for renewable power project developers. For the 5 GW solar target, an estimated 1.1 GW is likely to come from rooftop and 3.9 GW from utility-scale projects. The Indian Railways qualifies as a guaranteed consumer and has a surging electricity demand, which makes it an attractive customer for solar developers.
The CEEW study examined the potential for solar projects on railways land in 12 states ranking them by ease of business for developers. Madhya Pradesh tops the ranking for utility-scale projects, while Karnataka is the most attractive for rooftop project developers.
The Indian railways is aiming at reducing emissions intensity by 33% of 2005 levels by 2030, in line with India's own targets of reducing greenhouse gas emissions as part of the Paris climate treaty.
"Indian Railways' ambitious renewable energy push will not only lower energy bills for the Railways but will also advance India's climate goals and serve as a role model for low-carbon public transportation across the world," Dr Arunabha Ghosh, CEO, CEEW, said.
In this year's budget the finance minister announced that 20 GW of solar power capacity would be installed and 7,000 railway stations will be run on solar power.
The Railways growing focus on eco-friendly sources of energy will not only lead to direct gains in terms of reducing emissions but also play a part in spreading awareness among the masses, taking the message to remote parts of the country on wheels.
RANKING OF STATES
UTILITY- SCALE PROJECTS FOR RAILWAYS
1) Madhya Pradesh
2) Rajasthan
3) Andhra Pradesh
4) Gujarat
5) Uttar Pradesh
ROOFTOP SOLAR PROJECTS FOR RAILWAYS
1) Karnataka
2) Telangana
3) Gujarat
4) Rajasthan
5) Chhattisgarh