Iran to lease part of Chabahar port to India for 18 months
Narendra Modi held talks with Iranian President Hassan Rouhani on Saturday to boost cooperation in key areas of security, trade and energy, after which the two sides inked nine pacts, including one on double taxation avoidance.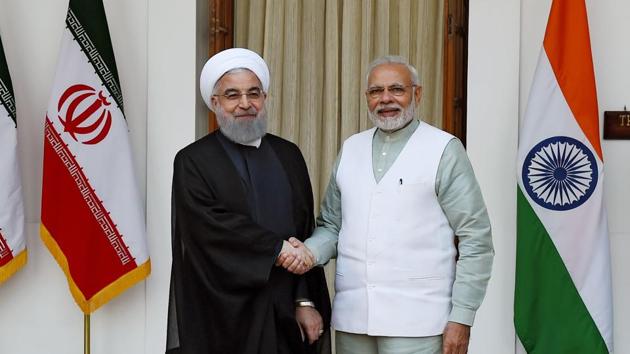 Updated on Feb 17, 2018 11:02 PM IST
India and Iran signed a clutch of agreements on Saturday with Tehran agreeing to lease to New Delhi operational control of a part of the Chabahar port for 18 months.
The port is a vital part of New Delhi's plans to connect with Afghanistan and Central Asian countries as it creates a strategic trade route, bypassing Pakistan.
After the meeting between Prime Minister Narendra Modi and Iranian President Hassan Rouhani, the two sides signed nine pacts, including a double taxation avoidance treaty, and decided to fast-track agreements for preferential trade arrangements to boost economic ties amid US pressure to review the 2015 nuclear deal and re-impose sanctions on Tehran.
Tehran leasing to New Delhi operational control of part of the Chabahar was an important outcome of the visit. The $85 million project, just 90 km from the Chinese-built Gwadar port in Pakistan, ensures a transit route for India to Afghanistan and resource-rich central Asian countries bypassing Pakistan.
The two countries also called for "an immediate end to all support and sanctuaries enjoyed by terrorist groups and individuals," said a joint statement.
"We want to increase ties in finance, energy, connectivity and trade. We want to strengthen our age-old cultural ties. Landlocked Afghanistan has got a golden gateway in Chabahar. I congratulate you for the contribution," Modi said as New Delhi hosted an Iranian President after ten years.
Sharing the sentiment, Rouhani said: "Iran and India are prepared for joint ventures in gas and petroleum sectors."
"We also had a great deal of discussion today on facilitating economic relations, preferential trade tariffs, better banking relations, visa relations and facilitating travel between the two countries for business purposes," the Iranian President said.
"The two leaders agreed on the deepening trade and investment cooperation . In this context, they recognised the need to put in place an effective banking channel for business transactions", the joint statement said.
Close Story
Personalise your news feed. Follow trending topics