ISRO working on smaller launch vehicles to carry satellites up to 700 kg
ISRO chief K Sivan said the agency is planning to open incubation centres at six places in the country to encourage innovation and start-ups.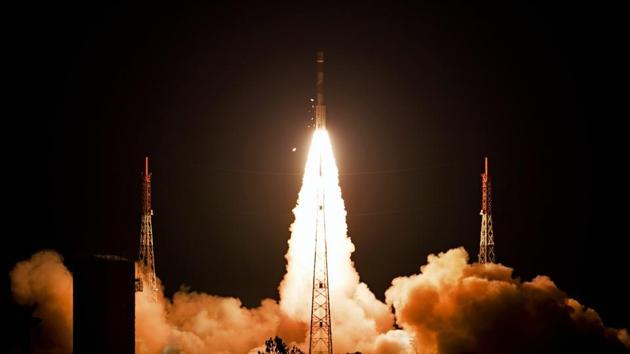 Updated on Sep 06, 2018 06:18 PM IST
Bengaluru |
Press Trust of India
ISRO is working on building smaller launch vehicles that will carry satellites weighing 500 to 700 kg to up to 500 kilometres from the earth's surface, its chief, K Sivan, said on Thursday.
Speaking at the inaugural session of the Bengaluru Space Expo 2018, a biennial event organised by the Indian Space Research Organisation (ISRO), Sivan said the agency was planning to open incubation centres at six places in the country to encourage innovation and start-ups.
He said the academia and the industry are two strong pillars of the ISRO and urged the industry to come forward and share the agency's "load".
"The demand for small satellites is growing. Small satellites are going to be used for communication purposes in an enormous way. To catch up with the small satellites market, ISRO is in the process of developing a small satellite launcher," he said.
These satellites, Sivan added, would be of very repetitive nature and easier to produce.
The small launch vehicle will be different from the Polar Satellite Launch Vehicle (PSLV), ISRO's trusted workhorse, and should take only 72 hours for integration, he said.
"We are working on small satellite launch vehicles. These will be able to launch a satellite of 500 to 700 kilograms in a range of 500 kilometre from Sriharikota (the Satish Dhawan Space Centre)," he said.
The ISRO will need 50-60 such vehicles every year, Sivan said, noting that the industry should come forward in this endeavour as over the next 3-4 years, the prime focus of the space research agency would be on the Gaganyan.
"We don't want to spend time on making these smaller vehicles. We want to give this to the industry and it should take part to make it more effective," he said.
He said out of the over Rs 10,000 crore announced by the Centre for 40 satellite launch vehicle programmes, Rs 9,000 crore would go to the industry for manufacturing them.
"The prime minister has approved 30 PSLV and 10 GSLV mark III. It costs Rs 10,400 crore. So, more than Rs 9,000 crore will be for the industry. In next three years, we are supposed to launch 59 satellites. So, it converts into two launches per month," Sivan said explaining the scope of work for the industry.
Close Story