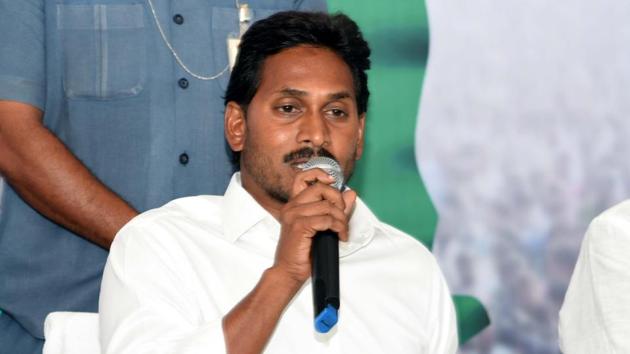 Jaganmohan Reddy asks Chandrababu Naidu to jump in well over Andhra special status
YSR Congress chief Jaganmohan Reddy sought to know why Andhra Pradesh chief minister Chandrababu Naidu had never insisted on granting special status category to AP.
PUBLISHED ON APR 06, 2018 11:58 PM IST
YSR Congress president YS Jaganmohan Reddy asked Andhra Pradesh chief minister N Chandrababu Naidu on Friday to jump into a well to rid the state of Shani, or Saturn, the Hindu astrological sign associated with bad luck.
The barbs follow the joust between the ruling Telugu Desam Party and the opposition YSR Congress over the demand for a special category status to the state.
Reddy equated Naidu with Shani for his "failure to get the special status for Andhra Pradesh" even when he was with the National Democratic Alliance government at the Centre for four years.
"Naidu has miserably failed ... despite sailing with the NDA for four years. It is better he jumps into a well. At least then, the state can get rid of this Shani that has been troubling the people all these years," he said, hours after his party MPs resigned from their parliamentary membership and launched a fast unto death.
TDP chief Naidu severed his party's links with the Bharatiya Janata Party (BJP) anchored NDA this March in protest against the Centre not granting the special status, which he said was promised when a separate state of Telangana was carved out of Andhra Pradesh in 2014.
Senior minister D Adinarayana Reddy condemned Jagan's comments on Naidu. "It clearly showed his factionist mentality and lack of culture," he said.
This is not the first time Reddy made derogatory comments against Naidu. During bypolls to the Nandyal assembly seat last year, he said there was nothing wrong if Naidu was shot dead in public in broad daylight. He said Naidu should be hanged for the harm he was doing to the state.
In Guntur on Friday, the YSR Congress chief called Naidu a cheat, saying he pledged the interests of the state to the Centre for his personal gains. He challenged Naidu to ask his parliamentarians to resign and join the fast along with his MPs.
Reddy sought to know why Naidu had never insisted on granting special status category to AP, when the Planning Commission was still in place during the first seven months of the NDA government at the Centre, before it transformed into NITI Aayog.
He also targeted actor-politician Pawan Kalyan, who heads the Jana Sena Party (JSP), and asked what he had done in the past four years for the state. "In his picture, there are more intervals and less movie," Reddy said.
Showing pamphlets published by the TDP-BJP-JSP combine during 2014 elections, Reddy said the actor-politician is equally guilty as Naidu for the crisis in the state.
Close