Jammu Kashmir panchayat polls deferred on home department advice, order says fresh dates possibly in 2-3 weeks
Updated on Feb 18, 2020 11:28 PM IST
The by-polls to elect sarpanches and panches in more 12,500 panchayat seats in Jammu and Kashmir was scheduled to be held in eight phases from March 5.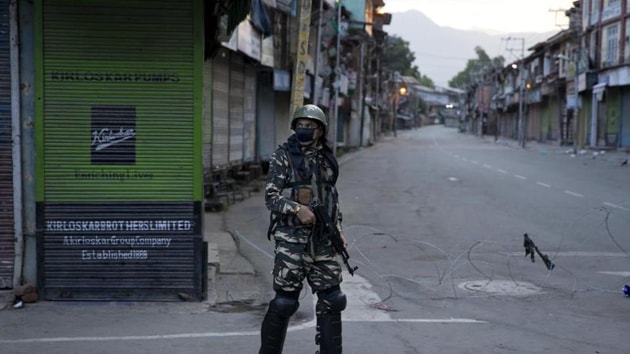 J-K panchayat by-polls postponed over security inputs: Election office
Mir Ehsan
Srinagar
The by-polls to panchayats in Jammu and Kashmir scheduled to be held next month has been postponed apprehending trouble and inputs from security agencies, the office of the chief electoral officer (CEO) Shailendra Kumar said late on Tuesday
The decision to postpone the by-elections came after the notification was announced for two of the eight phases, which were to begin from March 5.
"… home department government of Jammu and Kashmir vide its letter dated 18-2-2020 had advised the election authority to consider deferring of the conduct of polls based on credible inputs from the law enforcement agencies," the notification said.
ALSO WATCH | 'Full picture', 'satisfied': Foreign envoys on J&K trip; Cong slams 'cover-up'
"After addressing all the concerns suitably, at the earliest possibly in two to three weeks, a fresh schedule will be notified," it added.
The polling was to be held from March 5 to March 20 from 9am to 1pm.
According to the earlier notifications, the last date for making nominations was February 22, the date for scrutiny of nominations was February 24 and the last date for withdrawal of candidature was February 26.
Last week, the Jammu and Kashmir government had issued the notification to fill the vacant 11,639 panchayat seats in Jammu and Kashmir.
This would have been the first elections to be held under the administration of the Union territory after the erstwhile state of J-K was bifurcated into J-K and Ladakh.
The National Conference (NC) and Peoples Democratic Party (PDP) had boycotted these polls and there were many places where no candidate had filed nomination papers.
This time as well, the NC, PDP and the Congress had demanded the release of the political leaders before any elections would be held.
The panchayat elections were held in J-K in 2018, however, despite the polls, more than 60% seats in Kashmir remained vacant as at many places candidates didn't file nomination papers or resigned after getting elected.
The highest number of vacant panchayat wards at 2163 is in north Kashmir's Baramulla district, followed by Anantnag with 1995 wards while Budgam and Pulwama districts have 1940 and 1437 vacant wards, respectively.
Similarly, of the 2182 sarpanch vacancies in Kashmir, 923 are still vacant while there are 36 sarpanch vacancies in snowbound areas.
Since the 2018 polls, 504 panches have resigned over various reasons.
The highest number of panchayat members quit in south Kashmir's Anantnag with 129 resignations, followed by central Kashmir's Budgam district with 81.
In Baramulla and Kupwara districts, 67 and 61 panches respectively submitted their resignations.
After getting elected, 12 sarpanches also resigned with one each putting in their papers in Anantnag and Baramulla districts.
Five sarpanches resigned in south Kashmir's Pulwama district and one each in Baramulla, Budgam and Bandipore districts of Kashmir.
Topics
Personalise your news feed. Follow trending topics