Janardhan Reddy's wife to contest against his brother in Ballari seat
Feb 01, 2023 12:36 AM IST
Reddy, accused in a multi-crore illegal mining case, has been out on bail since 2015, and several conditions were imposed by the apex court in its order, including prohibiting him from visiting Ballari and Anantapur and Kadapa in Andhra Pradesh
Bengaluru: Former BJP minister and mining baron G Janardhan Reddy has decided to field his wife Lakshmi Aruna as the candidate from his party in the Ballari constituency against his brother and sitting BJP MLA Somashekhar Reddy.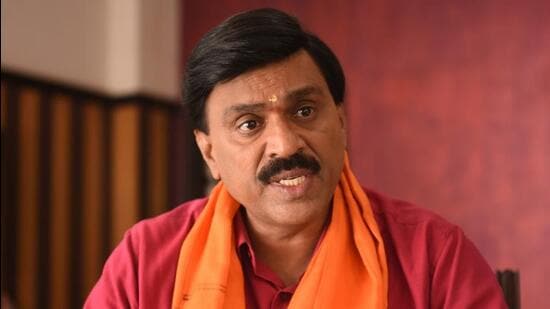 "You are aware that I'm a candidate from Gangavathi assembly segment. I'm today announcing my wife Aruna Lakshmi as a candidate from Ballari city assembly constituency," Reddy said, addressing a gathering during his party's yatra in Ballari.
"Is there any confusion on my announcement? Wherever I have an opportunity or a possibility to win, I will field candidates from there, there is no need for me to field candidates to defeat someone. In the three months I will travel in the constituencies that I can within my limitations and will try to ensure my candidate wins," he said.
Janardhana Reddy announced that he will contest the 2023 assembly polls from Gangavathi in Koppal district, outside his turf in Ballari. He said his party would follow the ideals of 12th-century social reformer Basavanna and fight against divisive politics based on caste and communal lines.
Reddy was politically inactive for nearly 12 years since he was arrested by the CBI in 2011 for his alleged role in the mining scam. Reddy, accused in a multi-crore illegal mining case, has been out on bail since 2015, and several conditions were imposed by the apex court in its order, including prohibiting him from visiting Ballari and Anantapur and Kadapa in Andhra Pradesh. Recently in October, the Supreme Court allowed Reddy to visit Bellary and stay till November 6 to meet his daughter after he had sought permission.
BJP minister Sriramalu, who was a close confidant of Janardhana Reddy prior to his arrest in the mining case, said Reddy's brothers said he will work as a unit with the Reddy brothers. Reddy's brothers, G Karunakara Reddy and G Somashekar Reddy are BJP MLAs from Harapanahalli and Ballari city assembly segments. They have made it clear that they are with the BJP and have nothing to do with Janardhana Reddy's new party.
"The two MLAs, minister Anand Singh and I will face the election as a united unit. The party would fight the poll on the basis of the popularity of Prime Minister Narendra Modi, chief minister Basavaraj Bommai and his predecessor B S Yediyurappa. People don't vote to look at my face or that of someone else (Reddy)," he said.
Though the BJP leaders in the Ballari are confident that Reddy's party wouldn't make a big impact, there is growing tension in the Bommai government over Reddy's new party. A former BJP minister in opposition to his old party would provide a platform for rebel leaders. "There is a concern about many disgruntled leaders joining. While these leaders will not win, the concern is if they will eat into the vote bank of the party. Reddy has a strong influence in Ballari, Vijayanagara, Koppal, Raichur, Yadagiri and Bidar districts," said a senior BJP legislator who didn't want to be named.