Congress-JD(S) to contest 2019 Lok Sabha elections together
Jun 01, 2018 11:21 PM IST
The Congress and Janata Dal (Secular) finally seemed to have arrived at a conclusion regarding portfolio sharing in Karnataka. While the JD(S) will keep finance, Congress gets to keep home.
The Congress and Janata Dal (Secular), coalition partners in Karnataka, didn't just manage to resolve outstanding issues over the Cabinet, but also said on Friday that they would form a pre-poll alliance to jointly contest all 28 seats in the state for the next Lok Sabha elections.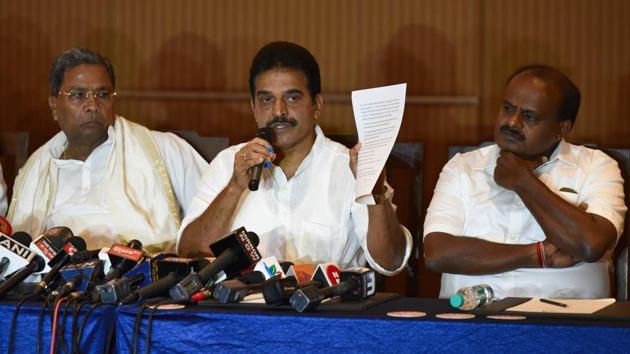 The modalities of seat sharing would be worked out shortly, said KC Venugopal, general secretary of AICC, in-charge of Karnataka.
Addressing a press conference in Bengaluru on Friday along with chief minister HD Kumaraswamy and deputy chief minister G Parameshwara, Venugopal said a coalition coordination and monitoring committee was being set up to ensure smooth functioning of the government.
Apart from the chief minister and his deputy, the committee will comprise Venugopal, former chief minister Siddaramaiah, who has been elected Congress Legislature Party leader, and Danish Ali, national general secretary of JD(S).
While Siddaramaiah will be the chairman of the co-ordination committee, Danish Ali will be its convener. The committee is expected to meet at least once a month. Each party will appoint a spokesperson .
All appointments to statutory boards and corporations will be cleared by the co-ordination committee and would be done in the ratio of two posts for the Congress for every post given to JD(S), reflecting their respective strengths in the assembly.
The new Cabinet would be sworn in on Wednesday, June 6, Kumaraswamy said.
Friday's conference puts to rest concerns over the time it has taken the partners to work out details of their partnership.
An alliance between the two for the Lok Sabha elections was always a given.
Going by the arithmetic of the 2014 Lok Sabha polls, such an alliance would win 21 of the 28 Lok Sabha seats.
Senior political analyst Mahadev Prakash said that if the Congress and the JD(S) manage smooth seat sharing and transfer votes to each other's candidates, it would be a potent combination and the BJP, which won 17 of the 28 seats in 2014, would be concerned.
As reported earlier by Hindustan Times, the JD(S) has managed to prevail and obtain the crucial finance portfolio.
In addition it will get information, general administration, intelligence, planning and statistics, excise, PWD, power, co-operation, tourism, education, animal husbandry and fisheries, horticulture and sericulture, small scale industry, transport and minor irrigation departments.
The Congress gets home, irrigation, Bengaluru city development, industry, sugar, health, revenue, Muzrai )religious and charitable endowments), urban and rural development, agriculture, housing, medical education, social welfare, forest & environment, labour, mines& geology, women & child welfare, food & civil supply, Haj, Wakf & minority affairs, law & parliamentary affairs, science & techonolgy, IT & BT, youth, sports & Kannada culture, ports and inland transport.
The coalition partners said that rest of the portfolios would be decided by the CM in consultation with his deputy.
CLP leader Siddaramaiah said the co-ordination committee of which he is the Chairman would ensure that the coalition government functions smoothly and effectively. "We will draw up a common minimum programme based on manifestos of both parties, keeping the interests of the state's people in mind," he added.
He also denied that JD(S) had gained the upper hand in portfolio distribution and averred that the entire exercise had been concluded only after much discussion. He also rubbished any likelihood of rebellion by those aspirants who couldn't get ministerial berths.