Judicial commission gives clean chit to MP police in SIMI encounter case
Updated on Sep 21, 2017 07:44 AM IST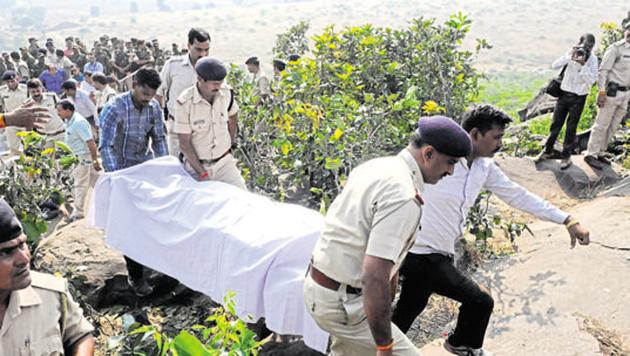 Hindustan Times, Bhopal |
, Bhopal
Shruti Tomar and Punya Priya Mitra
The one-man judicial commission probing the jailbreak and encounter killings of eight activists of Students Islamic Movement of India (SIMI) gave a clean chit to the Madhya Pradesh police, administrative sources said on condition of anonymity.
On the intervening night of October 30-31 last year, eight SIMI activists escaped from Bhopal central jail, allegedly killing a security guard. Within hours, a police team gunned them down on the outskirts of Bhopal.
The 12-page report was submitted by high court (retired) justice SK Pandey to additional chief secretary (general administration department) Prabhanshu Kamal on August 24. Since the report is confidential and will be made public after it is tabled in the state assembly, no official was willing to comment on record.
Sources said the report gave clean chit to the police because, "there was no contradiction between the version of events given by the villagers who witnessed the encounter and what the police said, which matched with the official documents."
Reacting to the leaked report, advocate Parvez Alam, who represented the eight men, said they were not satisfied with the findings of the commission and would move the high court besides requesting for a CBI inquiry. "It was a closed-door hearing. We were not allowed to cross examine the witnesses, no documents were provided to us, not even the post-mortem report. We had demanded to see the so-called tools – tooth brush, wooden keys – used in escaping, but nothing was shared with us," Alam said.
The report pulled up the jail administration for "several loopholes" in security which was "exploited" by the undertrials.
The commission was set up by the state government on November 7 but Pandey took charge only on December 5.
Pandey was given two extensions totalling nine months to complete the probe.