Kashmir curfew enters day 50, death toll rises to 70
The government-imposed curfew in Kashmir entered the 50th day on Saturday, making it the longest-ever in the history of the state.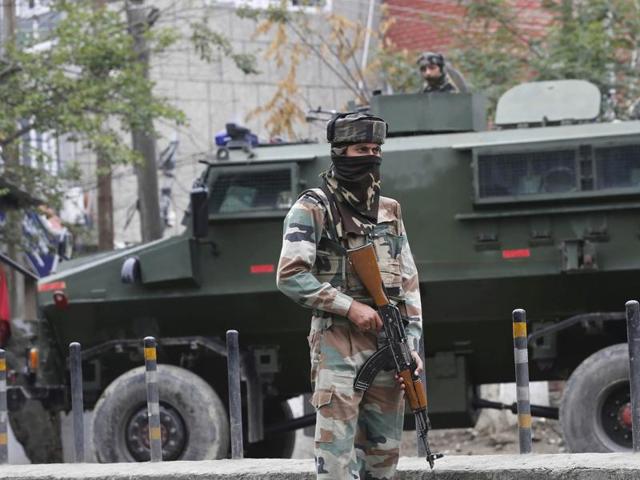 Updated on Aug 27, 2016 09:48 PM IST
Ashiq Hussain, HindustanTimes, Srinagar
The government-imposed curfew in Kashmir entered the 50th day on Saturday, making it the longest-ever in the history of the state.
Kashmiris have witnessed curfews and restrictions many times ever since militancy erupted in the Valley in 1989. But never ever has the period of restrictions stretched continuously for 50 days.
"This time it is unprecedented. We have witnessed a strict curfew over whole of Kashmir. It must be a record," said Noor Ahmad Baba, renowned political analyst and retired professor from the University of Kashmir.
Curfew was imposed on July 9 after people took to the streets protesting and attacking security installations against the killing of Hizb-ul-Mujahideen commander, Burhan Wani, in south Kashmir. As many as 70 persons have been killed and thousands injured as security forces resorted to firing to control the protests.
During early militancy, Kashmir was shut for a month after militants entered the Hazratbal shrine in October 1993.
Similarly in 2010, the Omar Abdullah-led National Conference-Congress government also imposed curfew after protests spiralled out of control when a fake encounter by the army in which three youths were killed in north Kashmir came to light. The unrest continued for months together with over 110 people losing their lives while the government imposed curfew for brief spells.
"This time, the curfew is far more severe. We have not had a single day's deal or relaxation since July 9 compared to previous unrests when there were relaxations every 10-15 days," said 34-year-old Gowhar Ahmad, an old-city resident who works for a consultancy.
Also, the curfew has been strict across the entire Valley – be it Srinagar city, towns or villages – as protests have been widespread, especially in the countryside.
But why has there been no relaxation?
A senior journalist, not wishing to be named, said the PDP-BJP government imposed curfew expecting protests to subside soon. "But that did not happen. The state also used unprecedented force killing 70 people with bullets and injuring hundreds with pellets," he said. "This time, there is more anger and hence more defiance. So, whenever they try to lift curfew, people come out protesting vehemently," added the journalist.
However, one aspect which has aggravated the severity of restrictions on people is the tussle between separatists and state. The separatists have clearly told people to open shops in the evenings only. In response, the state has been imposing curfew even at night.
Many residents have complained that security personnel were not allowing even essential commodities to reach people. "In my memory, I have never witnessed such restrictions that men in uniform not even allow milk or vegetables to reach markets. Recently, I was not allowed to take a relative to hospital. People's miseries are increasing. So, obviously anger is escalating," said Ishfaq Ahmad, a college lecturer.
Baba said the continuous bandhs and curfews have completely shut down the society in Kashmir. "Hartals and curfews are reinforcing each other, putting tremendous strain on the people. Society can't survive under this kind of complete control. Some activity has to be allowed."
Youth's body retrieved from Jhelum
Meanwhile, the body of a youth, who had jumped into the Jhelum after allegedly being chased by security forces during a protest on Friday, was retrieved on Saturday.
Locals fished out the body of 24-year-old Shahnawaz Ahmad from the river in the Sangam area of Anantnag district.
Police and residents said Ahmad along with two other youths had jumped into the river after a group of youths was chased by security forces during an incident of stone throwing. The other two managed to swim ashore.
PRO CRPF Rajesh Yadav told Hindustan Times that Ahmad was part of stone pelters when he was chased by the CRPF. "Troops as usual tried to disperse the youth by chasing them. The young man thought he would escape by jumping into the river," Yadav said.
Close Story