Kerala flood aftershocks: Unusual soil piping phenomenon adds to misery
Soil piping and lateral spread-- soils movement downhill-- visible in Kerala are recipes for major disasters say geoogists. Soil piping is indicative of serious destabilising inside earth in extreme conditions.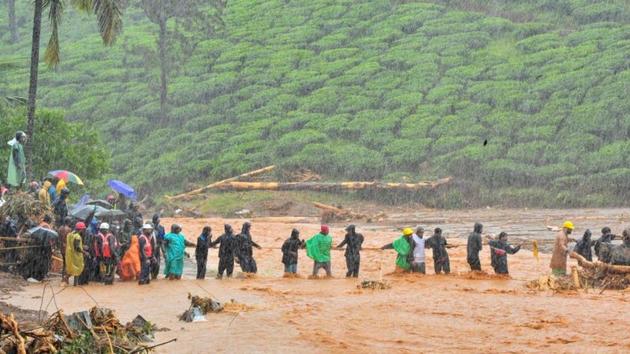 Updated on Aug 14, 2019 09:01 PM IST
As rescue personnel struggled to remove mounds of debris and slush in landslide-hit areas in north Kerala to retrieve the trapped, many people in highland areas complained about an unusual phenomenon - of earth developing cracks and spouting muddy water with great force.
In Wayanad's Vythiri, a double-storied newly-built house moved 12-feet away from its original site and water gushed from its side cracks and in Kannur, a fountain sprung forth from a crack in the ground while in some areas, wells caved in. These were indicators of serious destabilizing taking place inside earth in extreme conditions, geologists warned.
During extreme rains, cracks develop in earth and muddy water containing deep sand and soil pumps through these cracks, geologists call it "Soil Piping". Rains trigger constant erosion of surface layer of the ground and it leaves nothing beneath to support leading to an eventual ground collapse, they explained the "Soil Piping" phenomenon.
Small underground tunnels can be formed due to erosion of clay-rich soil which loses strength due to saturation and behaves like a fluid triggering a discharge, they said. Many cracks were found in affected areas, they said, adding these silent caves posed serious threat to life and properties.
"Soil Piping and lateral spread (it occurs when soil starts moving downhill), visible in Kerala only recently, are recipes for major disasters. Like cloud pattern, soil pattern is also undergoing a sea change," said Dr V Nandakumar of the National Centre for Earth Science Studies. "Look, we cannot control rains. But we can mitigate damage triggered by extreme rains. Human intervention plays a key role in multiplying damages," he said.
"In India there is no serious study on land use. Weight is added on earth continuously through new constructions, road and other structures. In Kerala, even in hilly areas people construct huge mansions and resorts using granite and marble bought from Rajasthan," said Dr P V Karunakaran, a scientist with the Salim Ali Centre for Ornithology and Natural History in Coimbatore. Whether it is cultivation, construction or excavation, people are not bothered about geographical positioning of the land or climate, he said and added that debates and lectures take place only after a tragedy occurs.
"It seems we haven't learnt from last year's tragedy. Earlier minimum distance of a quarry from human habitation was 100 metres but rules were amended last year to make it 50 metres as the state witnessed shortage of stones," said Dr V S Vijayan, environmental scientist and a member of the Madhav-Gadgil panel that prepared an extensive report to save ecologically-fragile Western Ghats. Illegal quarries, uncontrolled blasting, unscientific farming and construction methods were to blame for such tragedies, he said.
Many experts like him said there was large-scale cutting of trees for monocropping (agricultural practice of growing a single crop) and quarrying was going unabated in sensitive areas of Western Ghats. There are 20 quarries in 25 kms radius of Kavalappara in Malappuram which bore the maximum brunt of the killer landslide that decimated a whole village, they said.
"In Gadgil report we have given guidelines to protect natural resources with the help of local bodies. But this report is gathering dust in government cupboards. There are naked encroachments on water bodies and quarrying and blasting are continuing unabated. So it is natural for water flow and soil erosion to turn uncontrollable at one point," Dr Vijayan said.
Having burnt fingers, the state government is now toying with the idea to ban construction activities in ecologically fragile areas. After last year's flood the government had taken a similar decision but it was dropped due to pressure from many quarters.
Close Story
Personalise your news feed. Follow trending topics