Meanwhile, the Akhil Bharatiya Vidyarthi Parishad submitted a fresh complaint against Jaleel to the Thiruvananthapuram police commissioner on Sunday, seeking strict against him. Three complaints were already filed against Jaleel in Kerala (two) and Delhi (one), respectively, on Saturday.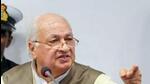 Updated on Aug 15, 2022 04:01 AM IST
KT Jaleel reacted to his statement after facing a huge backlash and claimed it was misinterpreted. However, he addressed only a part of his statement and remained mum on the other bit.

Published on Aug 14, 2022 02:19 PM IST
In the petition Thomas Issac said that Enforcement Directorate (ED) has sought details about his properties and family members' assets. He moved the court on Wednesday after the central agency served notices to him twice.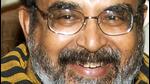 Updated on Aug 12, 2022 04:47 AM IST
Justice V G Arun raised the question while hearing a petition filed by Issac questioning summons in connection with financial transactions of the Kerala Infrastructure Investment Development Board (KIIFB).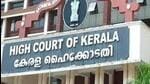 Updated on Aug 12, 2022 05:13 AM IST
Man protested by bathing and performing yoga in a water-logged pothole.

Published on Aug 10, 2022 04:30 PM IST