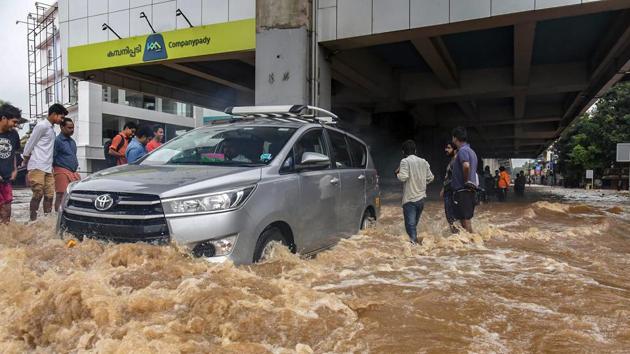 Kerala floods death toll crosses 100, more rain fury expected
The airport in Kochi, the state's largest, was declared shut till August 26 and Southern Railway and Kochi Metro suspended their operations.
Hindustan Times, Thiruvananthapuram/Chennai/Hyderabad | By HT Correspondents
UPDATED ON AUG 16, 2018 11:56 PM IST
More than 40 people were swept away on Thursday by rising waters as the worst flood in Kerala in nearly a century, which has claimed more than 100 lives, threatened to sink neighbouring other southern Indian states, where dams neared maximum capacity and rivers in spate.
The airport in Kochi, the state's largest, was declared shut till August 26 and Southern Railway and Kochi Metro suspended their operations. More than 150,000 people jostled for space in relief camps as their houses collapsed under heavy rainfall or were cut off by surging waters that have damaged more than 10,000 kilometres of roads.
"Kochi Airport operations is temporarily suspended up to 2 pm on August 26 due to very high flood situation and key essential facilities like runway, taxiway and apron are under submerged condition," an airport statement said.
Chief Minister Pinarayi Vijayan warned of a grimmer situation as more rain has been forecast till Saturday. "The Centre has sanctioned more men and material," Vijayan said after a conversation with Prime Minister Narendra Modi and other central leaders.
Thursday saw 10 more helicopters joining the existing fleet in the massive rescue operation while 40 additional teams of the National Disaster Response Force (NDRF) and a team of marine commandos also arrived. Thirty three of the state's 39 dams have opened their sluice gates to discharge water, adding to the surge in already overflowing rivers.
Pathanamthitta district in central Kerala continued to be the worst affected in the last 24 hours as thousands of people are trapped in their homes in the towns of Ranni, Aranmula and Kozhencherry.
"This sort of a situation has never been faced by the state. We are doing all that is humanly possible and rescue efforts are going on," Vijayan added.
Visuals showed hundreds of people perched on rooftops, as attempts to airlift some marooned families failed. The worst flood in the state since 1924 has wrecked havoc across the coastal state, with damages estimated to be more than Rs 8,000 crore.
Torrential rainfall also battered neighbouring Tamil Nadu, where a 42-year-old woman died after a flash flood submerged her home in Valparai and a Tamil Nadu electricity board staff was buried under a landslide. The victims were identified as A Velankani and Vigneshwaran. But heavy rainfall has forced Tamil Nadu and Karnataka to release excess water into the Cauvery, endangering the lives and property of people residing along the river basin. "Specific spots like Mukkombu, Kollidam and Valparai have been put on alert due to excess floods and the southern districts are also now vulnerable for floods," state revenue minister R B Udayakumar told reporters. The minister also said that all the six major rivers of Tamil Nadu including Cauvery, Bhavani Sagar, Vaigai, Thamirabharani, Kothayar and Manimuthar are in spate due to continuous rains, he said. The state sounded a flood alert for nine districts.
In Karnataka, the districts of Dakshina Kannada, Udupi, Chikkmagaluru, Kodagu and parts of Hassan and Uttara Kannada have been hammered by heavy rainfall over the past 24 hours, forcing the state government to set up relief camps and move people from low-lying areas.Two deaths in Kodagu and one each in Udupiand Shivamogga have been reported, a statement from the chief minister's office said. Kodagu has been badly affected by flood and mudslides and many people were stranded in various places.
The northern parts of Telangana and Andhra Pradesh also battled heavy showers for the second straight day. In Telangana, the Godavari river and its tributaries are in spate, disrupting normal life in Adilabad, Mancherial, Komuram Bheem, Karimnagar and Warangal districts. Several tribal villages in Komuram Bheem are marooned and in Adilabad, five people were rescued from being washed away by rising waters on Thursday. In Andhra Pradesh, rainfall has flooded several areas of Visakhapatnam, Vizianagaram, Srikakulam, East and West Godavari districts. Seven fishermen, who ventured into sea off Kakinada coat in East Godavari district in a mechanised boat on August 7 have not returned since then.
(with agency inputs)
Topics
Close