Kerala: Two students in hospital after ragging, accused on the run
Two students have been hospitalised in separate cases of alleged ragging at colleges in Kerala, prompting authorities to take action against the accused.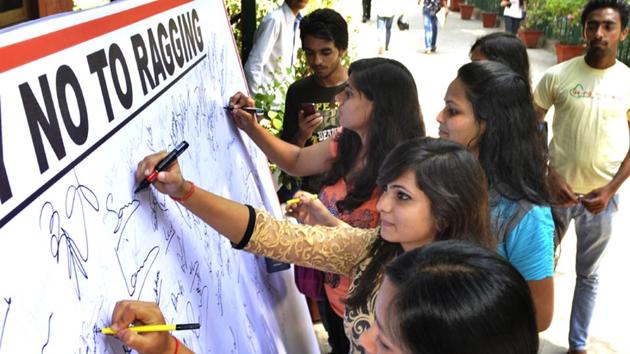 Updated on Dec 18, 2016 06:49 PM IST
An engineering student attempted suicide and another was hospitalised in two alleged incidents of brutal ragging in Kerala, police said on Sunday, putting the spotlight back on a menace that has claimed many lives on Indian campuses.
In Kochi, a marine engineering student at the Cochin University of Science and Technology tried to kill himself after he was allegedly beaten up and mentally tortured for hours last Friday, his father said.
"I joined the course after yearning for it a lot. But animals there subjected me to severe physical and mental torture," the student wrote on Facebook.
His father said the boy consumed pesticide and was admitted to a hospital in Mangalore. Police booked three students under attempt to murder charges.
"My son is recovering fast. Besides the police case, I have written to chief minister Pinarayi Vijayan to take stringent measures to stop such brutal acts," the father added.
The second case was reported from south Kerala's Kottayam where two Dalit students of the Government Polytechnic College were allegedly forced by older peers into doing push-ups and other demanding physical exercises for six hours.
The duo was then compelled to drink undiluted alcohol, police said.
One of the victims is now undergoing dialysis after his kidneys were damaged, a doctor at the Ernakulam General Hospital said, while the other has been discharged.
Police said they have charged eight students under the scheduled caste/scheduled tribe prevention of atrocities act for the incident, which took place on December 2.
The suspects in both cases are on the run, police said.
The incidents have sent shockwaves across the state with the Kerala human rights commission seeking a report from the college and police.
Ragging is outlawed in Indian campuses but despite interventions from the government and the Supreme Court, fresh college entrants are often subject to days of physical and mental abuse by their seniors – a practice often dubbed as entertainment or fun.
"Ragging is an institutionalised crime, not a result of a drunken night or a playful evening gone too far. Those who rag should be treated as criminals," said Ajay Govind from the Society Against Violence in Education, an NGO working against ragging.
In 2009, the University Grants Commission set up an anti-ragging helpline after the death of 19-year-old Aman Kachroo, a first-year medical student in Himachal Pradesh.
The death triggered national outrage and a panel appointed by the Supreme Court found the teenager had repeatedly complained to college authorities and asked for help. But he was ignored.
The UGC helpline has received more than 3.1 million
calls but many students say they are scared to complain. A study funded by the national education regulator this year found 40% students face some ragging but only 8.6% report them.
Earlier this year in Kerala, a nineteen-year-old nursing student suffered massive organ damage after being allegedly force-fed toilet cleaner by her seniors. This came on the back of several such complaints ranging from Delhi to Uttar Pradesh and Madhya Pradesh.
Read | Seniors or foes? How ragging in our colleges is pushing students to the edge
Close Story