Law ministry lifts time limit for child abuse victims to file case
Updated on Oct 16, 2018 11:23 PM IST
Under section 468 of the code of criminal procedure (CrPC), any offence, including child abuse, which can lead to a prison term of three years has to be reported within three years of the incident.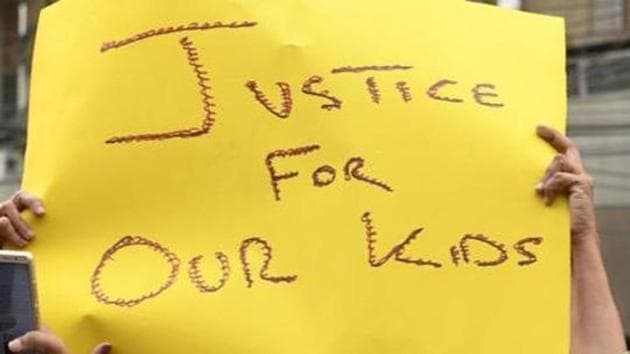 The Union ministry of law and justice Tuesday ratified a proposal by the women and child development (WCD) ministry to scrap the age limit for reporting cases of child sexual abuse, WCD minister Maneka Gandhi said.
WCD ministry had recently consulted the ministry of law in view of the overriding provisions of the Protection of Children from Sexual Offences (POCSO) Act over other criminal laws and provisions of mandatory reporting of such offences.
"The law ministry has ratified our proposal for removing the age limit, they have just sent the letter today," Gandhi said.
Under Section 468 of the Code of Criminal Procedure (CrPC ), for any offence, including child abuse, the stipulated time limit for reporting an offence that is punishable by a fine is six months. "Often, children are unable to report such crimes as the perpetrator in most cases is either a family member, a relative or closely known person. Studies have also shown that the child continues to carry the trauma of sexual abuse till very late in life.In order to overcome this trauma, many grown-up people have started coming out to report the abuse faced by them as children," the ministry noted in a statement.
As per 473 of the CrPC, the court may consider an older case only if it is in the "interest of justice" or when the "delay" in seeking redressal "has been properly explained."
"The ministry of law after examining the provisions of POCSO Act vis-à-vis provisions of CrPC has advised that there appears no period of limitation mentioned in Section 19 in regard to reporting of the offences under the POCSO Act, 2012," the ministry said.
Gandhi had written to law minister Ravi Shankar Prasad last week seeking to remove any age limit for reporting child sexual abuse, allowing people to complain about what has happened to them even "10-15 years later".
"In reporting the cases of child sexual abuse you can now report it any time even after a gap of 10 years or more," a senior official at the ministry said on condition of anonymity.
The change was much needed, said senior advocate Indira Jasing. "What has been achieved for minors must now be done for adult women too," she added.
To deal with child sexual abuse cases, the Government brought in POCSO Act, 2012. The Act had come into force with effect from 14 November, 2012.
The Act defines a child as any person below 18 years of age, and defines different forms of sexual abuse, including penetrative and non-penetrative assault, as well as sexual harassment and pornography, and deems a sexual assault to be "aggravated" under certain circumstances, such as when the abused child is mentally ill or when the abuse is committed by a person in a position of trust or authority vis-à-vis the child, like a family member, police officer, teacher, or doctor.
The ministry added that the POCSO Act does not provide for any period of limitation for reporting the child sexual offences.
"Now any victim, at any age, can complain the sexual abuse faced by him/her as a child," Gandhi added.
Close Story
Personalise your news feed. Follow trending topics