Modi-Trump meeting: Not bromance, this will be more like an awkward first date
Prime Minister Narendra Modi will meet President Donald Trump for the first time during his June 25-26 visit to the US.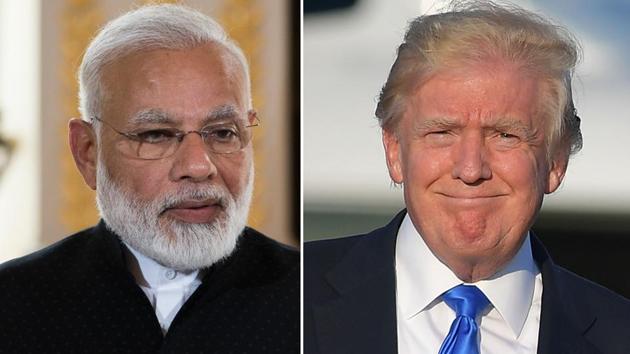 Updated on Jun 14, 2017 08:47 PM IST
Prime Minister Narendra Modi heads to the US later this month for his first meeting with President Donald Trump and expectations, at least on the Indian side, are modest.
No big bang announcements are on the cards during the visit being seen as an opportunity for the two leaders to unveil their vision of the bilateral relationship that has grown steadily over the last 20 years.
Modi will be in the US on June 25 and 26, days before he goes to Israel, the first Indian prime minister to visit the Jewish state.
At the White House, talks are expected to focus on familiar issues: Terrorism, economic cooperation, greater salience on Indo-Pacific and stepping up defence ties.
There are some concerns, too.
New Delhi would want clarity from the Trump administration on the H-1B regime, the short-term visa for skilled workers which is crucial to Indian software majors' overseas business. Trump sees the arrangement as a ploy to take away American jobs.
There is a cloud over the clean-energy push, a growing area of cooperation, after Trump pulled the US out of the Paris climate pact aimed at fighting global warming by reducing carbon emissions.
Still, it will be the Modi-Trump meeting itself which would be most critical. The two leaders, who are not conventional by any yardstick of politics, will get to know each other and set an "agenda for their future".
Modi enjoyed a good rapport with Trump's predecessor Barack Obama, it will be interesting to see how his relationship shapes with the billionaire-turned-politician.
Continuity is at the heart of the US-India ties. But what may worry New Delhi is the way Trump has gone about his foreign policy. His willingness to reset the terms of engagement with North Atlantic Treaty Organisation (Nato) allies and Paris pact pullout point to big shifts, and not happy ones, in the US stance.
The US's ties with Russia and China have not given out much to draw any conclusion as to where Trump places India in the region.
"Since the Trump administration came to power, ties have not flagged but have progressed with same pace as under the (previous) Obama administration," external affairs minister Sushma Swaraj told media earlier this month.
Officials say both sides value the ties.
One of them said cooperation would continue in the area of counter-terrorism. "During his visit to Saudi Arabia, the President did mention India as a victim of terrorism," a source said.
That he didn't mention Pakistan — a frontline state for the US -- as the victim of terror should bring some cheer to India. Trump not meeting Pakistan Prime Minister Nawaz Sharif during Saudi Arabia holds a symbolic significance for Delhi.
Past US administrations have spoken out against terror emanating from Pakistani soil but little has been done on the ground to change that. Trump is expected to take a harder line.
Officials say US defence secretray James Mattis and national security adviser HR McMaster had useful visits to India.
"The US was India's major defence partner. We haven't got any indication that they (the US) want to dilute this relationship," Swaraj had said.
Modi is likely to flag Indian concerns over the H-1B visa when he meets Trump. "I would like to assure the country that we are in touch with the members of the US Congress and the administration on this matter. When the Prime Minister travels there (later this month) this is one of the issues he is planning to raise," Swaraj had said.
New Delhi is also upset over Trump's comments that India signed the Paris deal for "billions and billions of dollars in foreign aid".
The two countries have several initiatives in place to push for technological advances in the field of clean energy. But with Trump administration making a U-turn on the Paris deal, there is little the two countries have left in common in this key area. India though remains committed to the climate pact and shifting to renewable energy.
Close Story
Personalise your news feed. Follow trending topics