More evacuations as Uttarakhand cracks grow
Jan 16, 2023 12:24 AM IST
The number of houses that have developed cracks has now risen to 826, out of which 165 are in the "unsafe zone", a bulletin from the Disaster Management Authority said. So far, 798 people have been shifted to temporary relief centres.
Cracks developed at the multilevel car parking housing relief material for people affected in Joshimath on Sunday, and two more hotels leaned dangerously towards each other as more buildings showed signs of structural weakness caused by land subsidence that has threatened much of the hill town.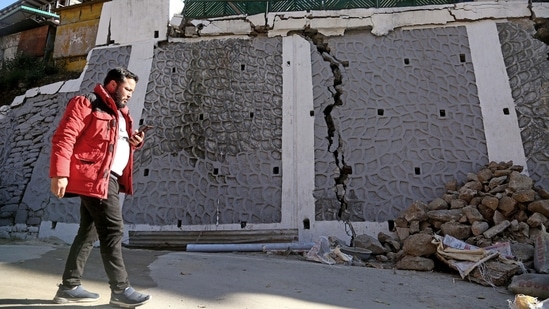 The number of houses that have developed cracks has now risen to 826, out of which 165 are in the "unsafe zone", a bulletin from the Disaster Management Authority said. So far, 798 people have been shifted to temporary relief centres.
While concerns have been raised over subsidence in other towns in Uttarakhand, Himachal Pradesh chief minister Sukhvinder Singh Sukhu on Sunday said that parts of the state may also be experiencing gradual sliding.
The municipal board, which operates the car parking in Joshimath, began evacuating staff as a precautionary measure, executive office Bharat Bushan Panwar said.
Also Read: Staring at uncertain future, say Joshimath residents
"The third floor of the building is being used for storing relief material being received from around the country by the district administration and it is for them to take a decision on shifting it," he added.
A municipal board staffer, living on the lower floor of the building with his family for the past 12 years, said the cracks have been widening at an alarming rate over the past few days.
"One can easily poke a finger inside the cracks which was not possible earlier," said Dipu, who goes by one name.
Also Read: No scope of repair in Joshimath, NTPC engineers punctured aquifer, says environment expert
The building is among five structures in ward number 4 under municipal limits that have been kept under observation, Dinesh Bijalwan, technical officer from the Central Building Research Institute said, while the district administration sped up distribution of relief materials.
"The inventory from the storeroom will be shifted elsewhere and we are speeding up the distribution at relief camps," Nandan Kumar, nodal officer managing the relief materials said.
The process of demolishing two adjacent hotels, Malari Inn and Mount View, was still underway till late on Sunday. Around 100 metres from the site, two more hotels — Snow Crest and Comet —tilted dangerously towards each other and were vacated.
"The gap between the two hotels was around four feet earlier but now it has narrowed to just a few inches with their roofs nearly touching each other," said Puja Prajapati, daughter of the owner of Snow Crest.
Wider cracks have appeared near the Joshimath-Auli ropeway whose operation was suspended over a week ago when land subsidence increased.
The 4.5km-long ropeway, considered one of Asia's longest, connects Joshimath located at 6,000 feet with the skiing destination of Auli at an altitude of 9,000 feet.
A crack, around four inches wide and 20 feet long, has appeared near the walls in the ropeway premises, ropeway engineer Dinesh Bhatt said.
Deputy secretary at the Prime Minister's Office Mangesh Ghildiyal also reached the sinking town on Sunday and conducted an on-site inspection.
The flow of water increased from a suspected underground channel burst in JP Colony in the Marwari area of the town after a temporary decline a couple of days back. Muddy water has been percolating down from it constantly since January 2 but experts are not sure about its origins.
State disaster management secretary Ranjit Kumar Sinha said a constant vigil is being maintained on the pace of water percolation in the area which has been fluctuating.
The water flow has increased from 190 litre per minute (LPM) to 240 LPM. It had decreased from 550 LPM in the beginning to 190 LPM on January 13.
Many houses were damaged in varying degrees in the land subsidence-affected areas, while water from the aquifer was constantly flowing down with great force initially.
According to the Disaster Management Authority, 17 more affected families were evacuated to temporary relief centres in Joshimath. The total number of families shifted to temporary relief centres now stands at 233.
An amount of ₹249.27 lakh has been distributed among affected families as interim assistance so far, it said.
Ration kits, blankets, food, daily use kits, heaters and blowers have also been provided to them.
Amid widespread concern over the fate of the sinking town, the Supreme Court is scheduled to hear on Monday a plea seeking the court's intervention to declare the crisis in Joshimath as a national disaster.
On Sunday, Himachal CM, speaking at the 148th foundation day celebrations of the India Meteorological Department, requested Union minister Jitendra Singh to visit the state to review the situation. "Like Joshimath, we also have some regions in Himachal Pradesh which are sliding gradually. We couldn't plan for these regions effectively without adequate technology. People constructed houses where they wanted. It is also on a high seismic zone. Please come to Himachal Pradesh, we want to discuss disaster-related matters. Lahaul and Spiti is the second largest district which has snow, rivers and glaciers. Kinnaur is bordering China, you need to look at these areas carefully," he said.
(With agency inputs)