Joshimath sinking: 8.5cm displacement enough for cracks in houses, says expert
Updated on Jan 14, 2023 10:09 AM IST
IIT Ropar researchers have predicted that Joshimath land will sink by 8.5cm to 10cm in near future -- in 2021. Between December 27, 2022, and January 8, 2023, Joshimath sank 5.4cm.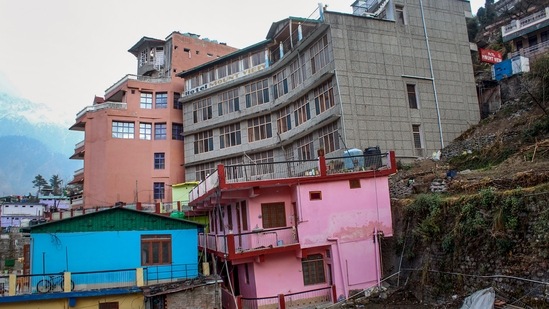 As satellite images of Uttarakhand's Joshimath found that the town sank 5.4cm in 12 days between December and January, IIT Ropar researchers who had predicted Joshimath land subsidence after the Chamoli flash floods said in 2021 only they noticed a surface displacement of up to 8.5cm in Joshimath. It was an upward trend at that time. The researchers had predicted a displacement of 8.5 to 10cm in "near future". "This figure is enough for cracks to develop in buildings, possibly even cause structural failure," Reet Kamal Tiwari, assistant professor of IIT-Ropar's civil engineering department said to PTI.
Meanwhile, the ISRO report has been withdrawn a day after it was reported.
The IIT-Ropar team in 2021 used remote-sensing data along with artificial intelligence algorithms to predict Joshimath land subsidence as they were studying rock displacement as a result of the flash flood. Joshimath is only 15km away from Tapovan, where the flash flood took place.
Here are the latest updates on what happened to Joshimath
1. The Centre has refuted links between the Joshimnath land subsidence and the NTPC hydropower project. In a draft letter, accessed by Hindustan Times, the Union power ministry identified the main reasons of the Joshimath sinking. And NTPC is not one of them. Sub-surface seepage erosion caused by natural drainage, occasional heavy rainfall, periodic seismic activities and increased construction activities are the main reasons, the letter said.
2. NTPC which earlier dismissed its role behind the Joshimath crisis told the power ministry that its 12-km tunnel is 1km away from Joshimath and at least a kilometre below the ground.
3. NTPC told the power ministry that the land subsidence issue in Joshimath is very old -- dating back to 1976.
4. The Uttarakhand government has approved an amount of ₹45 crore for relief for the affected families.
5. Affected families will get a six-month waiver of electricity and water bills starting from November 2022.
6. As the evacuation from Joshimath continues, the demolition of the two hotels -- Malari Inn and Mount View Hotels -- is underway. After days of protest, the demolition of Malari started and Mount View will be the next. Both the hotels developed large cracks and Malari is tilting towards Mount View posing a threat to the entire lane.
7. ISRO has released satellite images of Joshimath confirming a rapid subsidence of 5.4cm between December 27, 2022, and January 8, 2023. The crown of subsidence is located near Joshimath-Auli road at a height of 2,180 metres, it said.
8. Reports said many houses and temples in Joshimath's Singhdhar collapsed in the midnight hours of January 2 and 3 -- the time when several houses suddenly reported developing cracks.
What is NTPC Tapovan Vishnugad Project?
NTPC's Tapovan Vishnugad is a 520MW project being constructed on the Dhuliganga River in Uttarakhand's Chamoli. The construction work of 4x130 MW Tapovan Vishnugad project started in November 2006. The project includes the construction of a concrete barrage at Tapovan (15 km upstream of Joshimath town). The project is running 10 years behind its deadline and suffered massive damage during the Chamoli flash flood.
NTPC said the construction of the tunnel near Joshimath was completed in 2011 and there was no active construction work going around Joshimath.
Topics