No scope of repair in Joshimath, NTPC engineers punctured aquifer: Environment expert
Jan 12, 2023 01:26 PM IST
Joshimath land sinking: The government has assured help and compensation to the residents of Joshimath while the demolition of the two precarious hotels is yet to begin. A team of experts will study the land subsidence issue in the Uttarakhand town.
With a rehabilitation package being prepared by the Uttarakhand government, as Joshimath looks to stymy the crisis of its gradual sinking, environment expert Vimlendu Jha said the town has been brought down by NTPC engineers as there is no scope of repair and no reverse gear from the present situation. Putting the blame squarely on NTPC which claimed that the tunnel for their hydel project is not passing under Joshimath, Jha said the Joshimath disaster is the result of aquifer breaches. Read | 'I keep looking at cracks': Joshimath residents live in constant fear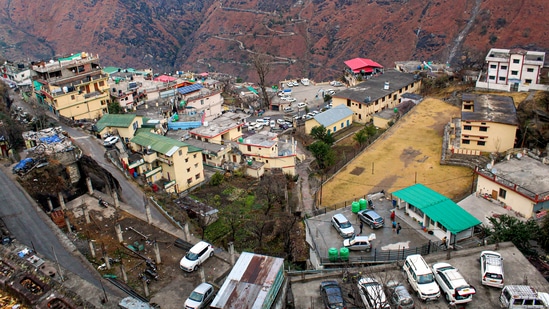 "Joshimath disaster is the result of puncturing of aquifers by the NTPC engineers, by their tunnel-boring machines, through tunneling under Joshimath, muddy waters seeping out from homes and ground is a testimony of the engineered crime leading to aquifer breaches," Jha wrote in a long Twitter thread breaking down the catastrophe.
Uttarakhand to conduct study on carrying capacity of Joshimath, other hill towns
'Not all soil type fit for digging'
Not every soil is plain soil and fit for digging, moving, and blasting. "Himalaya is one of the youngest mountain ranges, in high seismic zone and to top it all is a proscenium of extreme climate events. And yet, they draw a plan on autoCAD, same perhaps as they made for Sarojini Nagar redevelopment, or copied from Hongkong, and got it 'passed'. Our engineering colleges, to begin with, need to start teaching SOIL-TYPE : alluvial, laterite, desert, black cotton, peaty, and more. Not every soil is PLAIN SOIL, to be dug, moved, blasted or tunneled with your engineering prowess, EACH is different with unique carrying capacity," Jha said.
'Natural disasters are not natural'
Citing the example of the Chamoli flash flood which took place in February 2021, the environment expert said that it was at the same project site and a clear example of Himalayan ecological vulnerability. Irrespective of political parties, the authorities are in a mad rush to maximise short-term gains, mostly for private companies and contractors, Jha said.
'No coincidence in cracks'
After Joshimath, cracks appeared in houses in Uttarkashi, Rudraprayag, Karnaprayag etc. This is no coincidence, Jha said adding that all these are either closer to the Char Dham Road project or some rail tunnel zone or some hydroelectric project.
What is happening in Joshimath? Here are the latest updates
1. Chief minister Pushkar Singh Dhami visited Joshimath and spent the night there assuring the affected residents of the town, situated at a distance of 513 km from Delhi, 45.2 km from Badrinath, 51 km from Kedarnath.
2. An interim assistance of ₹1.5 lakh has been announced for people who have been shifted out of their houses in Joshimath.
3. Malari Inn and Mount View hotel of Joshimath will be demolished mechanically. The demolition got stalled because of the protests of the residents. No other houses will be demolished, the authorities said.
4. An underground channel had burst more than a week ago from where water was percolating. The chief minister said that has reduced.
Topics