'I keep looking at cracks': Joshimath residents live in constant fear
Jan 12, 2023 05:03 AM IST
Overall, 86 homes have been declared unsafe in the town so far, and 145 families have been shifted to temporary relief camps that dot Joshimath.
"I keep looking at the cracks in my house throughout the night as I fear they are growing bigger. Sometimes I even imagine they are widening. I can hardly sleep and always feel tense, fearing our house may fall anytime. This constant fear is worse than the actual collapse I feel."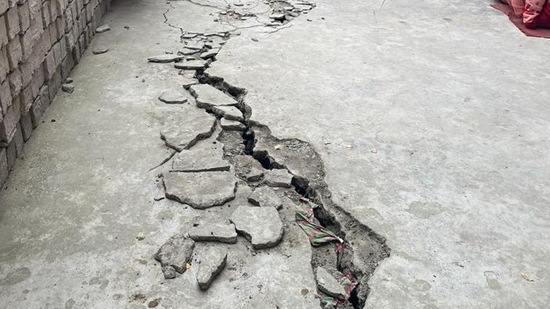 Amid growing threats of land subsidence in Uttarakhand's Joshimath town, 64-year-old Pushpa Verma cannot stop worrying about the cracks in her two-storey house in Singh Dhar ward. She said she wants to move to a relief camp, even as authorities are yet to declare her house unfit to live in.
"It is better to shift to relief camps rather than staying in this damaged house. The cracks are giving me sleepless nights. My blood pressure shoots up each time I look at the cracks," she said.
A homemaker, Verma lost her husband a few years ago. She said she was living together with her two sons, daughter-in-law and granddaughter until the cracks began appearing in her house.
"I sent my sons, daughter-in-law and granddaughter to Dehradun to stay with a relative. I did not want to put their life in danger. The weather is cloudy, and it can rain anytime, further aggravating the situation," she said.
Verma is among several families whose houses have developed cracks, putting the spotlight on land subsidence in the holy town. In the first week of January, Joshimath, a town of 20,000 people, was a flurry of activity as several structures in its steep bylanes started showing signs of land subsidence.
On the night between January 2 and 3, families in the town felt the hill rumble, and tremors that felt like an earthquake. The next morning, they found that their home, too, had developed cracks. Two days later, several homes in the Singh Dhar ward – the worst affected – were declared unsafe by the Chamoli district administration and several families were forced to move to relief camps.
Overall, 86 homes have been declared unsafe in the town so far, and 145 families have been shifted to temporary relief camps that dot Joshimath.
The remaining residents, however, said they are living in fear. They said that either the cracks in their houses are not major as it appears to be, or the survey team may have made a "wrong assessment" about the possibility of the danger.
"Our house initially developed minor cracks, but they are growing wider. I have a five-month-old daughter. We cannot sleep these days. We should be shifted to a safer location without wasting time," Jagdish Negi, a resident of Singh Dhar ward, said.
Harish Negi, another resident of the same area, said: "Cracks had started appearing in my house on the intervening night of January 2 and 3 and they are growing wider with each passing day. It is really unsafe to live with my kids here."
He added: "On January 10, a survey team came to assess the damage but did not declare our house unsafe. Can't they see the cracks, they are too big to ignore. We are sitting on a time bomb. In this hour of tragedy, the administration should react proactively and make the right judgment about the possibility of danger."
Bhawan Singh Rana, who runs a grocery store in the main market, said his three-storey house developed several cracks but is yet to be declared unsafe by authorities.
"A survey team came to assess the damages and declared our house safe for living. We requested them to shift us to safer locations, but they said we can live in their house for now. Our house can fall anytime. Are the authorities waiting for a big tragedy to take place," he said.
"Our tenants living on the third floor have started packing their bags and can leave anytime as cracks have started appearing in their rooms," he said.
Officials in the public works department (PWD) said they are constantly monitoring the situation in Joshimath.
"If the cracks in any house get wider, we will immediately take the required action," Sudarshan Singh, a PWD official, said.
Earlier this week, the Chamoli district administration had divided the town into three zones on the basis of the threats they pose – 'danger', 'buffer' and 'safe'.
"Houses with major damages and unsafe for living have been put under the 'danger zone'. Houses in the 'buffer zone' are endangered and under the 'safe' category are houses that are completely safe for living," Chamoli additional district magistrate Abhishek Tripathi had said.
According to official figures, as many as 723 houses in nine wards of Joshimath town have developed cracks so far. Of these, 86 houses fall in the unsafe zone.