Joshimath demolition yet to begin as protests continue
Jan 12, 2023 05:05 AM IST
Authorities have been trying to bring down a few residential and other "unsafe" establishments in the holy town since Tuesday, as several structures in its steep bylanes started showing signs of land subsidence from the first week of January.
Protests continued in Joshimath town of Uttarakhand on Wednesday as local residents objected to the state government's attempts to demolish a few unsafe structures and said that an interim relief of ₹1.5 lakh each to the affected families was not adequate.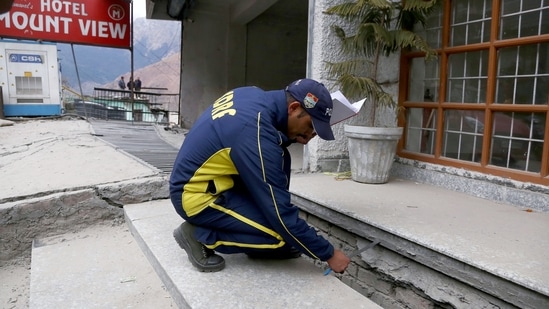 Authorities have been trying to bring down a few residential and other "unsafe" establishments in the holy town since Tuesday, as several structures in its steep bylanes started showing signs of land subsidence from the first week of January.
On Wednesday, the state government announced ₹1.5 lakh interim relief to affected families who have been shifted to safer locations after their houses developed cracks due to the land subsidence. It said that of the ₹1.5 lakh, ₹50,000 is being provided to meet shifting expenses and the remaining amount is for disaster relief.
Of the structures that the authorities are trying to demolish are Hotel Malari Inn and Hotel Mount View, inSingh Dhar ward, that have tilted due to the land subsidence.
On Tuesday, several local residents laid at the main entrance of Hotel Malari Inn as authorities tried to bring down the establishment. Hotel owner Thakur Singh Rana threatened to self-immolate if the authorities "forcefully tried to demolish his property".
Civic authorities on Wednesday held talks with Rana to persuade him and other stakeholders but to no avail. Local residents refused to allow the demolition despite secretary to chief minister Pushkar Singh Dhami, R Meenakshi Sundaram, intervention in the matter. Sundaram urged locals to support the demolition, saying the two hotels are "a threat to lives and other structures in the surroundings".
"I will kill myself by setting myself on fire if authorities try to demolish my hotel. The authorities should first give us adequate compensation. It's not just about me but the people of Joshimath. I am fighting for their rights," Rana told HT.
Rana's wife, Alpehswari, said there is no clarity on how the government intends to compensate for the demolition.
"In a meeting with authorities, they were unclear on what basis we will be compensated. We want compensation as per the lines of the Badrinath master plan. If you want to pay us on the basis of the market value, at least make it clear what the market value is. We are not allowing the demolition because once it happens, they will ask for proof (of damages)," she said.
Under the Badrinath master plan, envisaged by Prime Minister Narendra Modi in 2020, the infrastructure around Badrinath shrine is to be redeveloped as a spiritual city in three phases and the work under phase 1 has already begun. Over ₹470 crore has been sanctioned for the project and around ₹250 crore released so far, according to officials. For the redevelopment of the shrine, the government had also acquired private land for the redevelopment of the shrine under the master plan and gave ₹ 76 lakh per nali as compensation under one time settlement. One nali is equal to 2,160 sq ft.
The Badrinath master plan will be implemented in an area of around 85 hectares and a Devdarshini spot, construction of a museum and an art gallery, setting up of a light and sound show to showcase the 'Dushavatar' or ten incarnations of Lord Vishnu, linking the Badrinath shrine with other nearby religious spots of Keshav Prayag, Vyas Gufa near Badrinath are the important part of the master plan with an idea of developing it as mini spiritual hill town for future.
According to officials, the hotel must be brought down on priority to avoid damage to other nearby structures and loss of life.
"Since the protesters are not allowing us to carry out the demolition, we are trying to convince its owner and other stakeholders. Their apprehensions are also being addressed," Chamoli district magistrate Himanshu Khurana said.
Addressing reporters, Sundaram said the compensation package will not be similar to the one given in Badrinath.
"The compensation for the unsafe structures will not be paid like Badrinath. We are coming up with a redevelopment plan in Badrinath. For the same, to bring all stakeholders on board, we paid compensation which was six times the market rate. In a disaster-affected region, we should pay six times the market rate. It's not a reasonable demand. We have proposed a package similar to the one offered during the Uttarkashi landslides," Sundaram told a press conference, referring to 2003 landslides at Varunavat Parvat in Uttarkashi district. It had affected about 3,000 people and had completely damaged 81 buildings.
"We have sanctioned ₹1.5 lakh interim relief for each affected family. As far as the rehabilitation and resettlement plan is concerned, different people have different views. Some don't want to go to faraway places as their source of livelihood is here. Some have suggested a one-time settlement plan. We will definitely consider these while formulating the rehabilitation package," she added.
Overall, 86 homes have been declared unsafe in the town so far, and 145 families have been shifted to temporary relief camps that dot Joshimath.
Protesters, however, said the compensation is "to deceive the angry locals".
"It's not enough. Amid rising inflation, can the affected families ensure a temporary displacement with just ₹1.5 lakh. Where will they live until the final resettlement is done? Where will they take their belongings? The rent is so high. At least ₹5 lakh should be given by the government to the affected families as immediate relief," Pawan Chandra Uniyal, former dharmadhikariof Badrinath Temple, said.
"The compensation is definitely not enough. The people should not accept this. Authorities are trying to deceive innocent people. It's a man-made disaster, not a natural one. Hence, the relief amount should be given accordingly," Surendra, another local resident, said.
The protesters raised slogans against the government as well as the National Thermal Power Corporation (NTPC) Limited against their under-construction Tapovan Vishnugad Hydroelectric Project.
According to local residents, the NTPC's project is the key reason behind land subsidence in Joshimath due to its "non-stop digging and underground blasting to dig a tunnel."