Navjot Singh Sidhu stumps BJP, quits Rajya Sabha amid AAP buzz
Cricketer-turned-BJP leader Navjot Singh Sidhu resigned from the Rajya Sabha on Monday at a time speculations were rife that he might join the Aam Aadmi Party ahead of next year's Punjab election.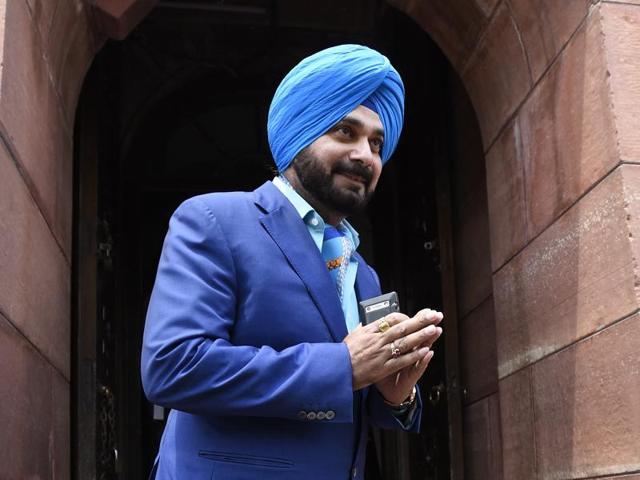 Updated on Jul 19, 2016 11:14 AM IST
It was a googly for the BJP on the first day of Parliament's monsoon session on Monday.
Cricketer-turned-BJP politician Navjot Singh Sidhu resigned from the Rajya Sabha amid reports that he will join the Punjab wing of the Aam Aadmi Party (AAP) in the run-up to the assembly polls – most likely as its chief ministerial candidate. He was nominated to the upper house in April.
The 52-year-old politician's decision is seen as a culmination of his tense equation with the BJP ever since he was denied the party ticket from Amritsar – a constituency he had represented thrice – in the 2014 Lok Sabha elections. While his resignation is a major setback for the BJP, it has come as a shot in the arm for AAP ahead of the polls.
Sidhu – sporting a yellow turban – reached Parliament before the Rajya Sabha assembled, and submitted his resignation to chairman Hamid Ansari. It was immediately accepted because he had personally appeared before the chairman, and there was no need for further verification.
Soon afterwards, Sidhu issued a terse statement clarifying that he had accepted the Rajya Sabha nomination at the behest of Prime Minister Narendra Modi for the welfare of Punjab. "(But) With the closure of every window leading to Punjab, the purpose stands defeated. It is now a mere burden, I prefer not to carry it," he said.
Then, the uncrowned king of one-liners added with a flourish: "In the war of right or wrong, you cannot afford to be neutral. I can't be self-centred… Punjab's interest is paramount."
Welcoming the development, frontline AAP leaders dropped enough hints that he would be joining their party – becoming its trump card in Punjab. "A big role awaits Sidhu in AAP," declared Sanjay Singh, the party's Punjab in-charge.
AAP chief Arvind Kejriwal, for his part, commended the former cricketer for his courage. "People can give their rt hand for an RS seat. Ever seen a sitting RS MP resigning to save his state? I salute Sidhuji for his courage (sic)," he tweeted late on Monday evening.
Nevertheless, many in the political spectrum seemed to agree that this development has dramatically altered Punjab's electoral landscape. "It's definitely a setback," a senior Punjab BJP leader told HT.
Sidhu had been left in the cold ever since he refused to campaign for Arun Jaitley, the BJP's pick for Amritsar, in the 2014 parliamentary polls. Later, he even retreated from Punjab after repeated run-ins with chief minister Parkash Singh Badal.
Sensing that Sidhu may warm up to AAP in the circumstances, the BJP sought to placate him in April by according him a Rajya Sabha seat from the President's quota. However, as only elected members are eligible for ministerial posts, it deprived him of a chance to bag a berth in Modi's cabinet. Even a position in the party's core committee for the Punjab polls failed to make him happy.
Meanwhile, his wife – BJP MLA and chief parliamentary secretary Navjot Kaur Sidhu – continued to attack the Shiromani Akali Dal-BJP government in Punjab, seeking a complete severance of the ruling alliance. This was a clear hint that Sidhu had reached a point of no return with the BJP.
Close Story