Nearly 15,000 MBBS students in Ukraine pursuing course online: Centre tells SC
Published on Nov 23, 2022 08:57 AM IST
A bench of justices Surya Kant and Vikram Nath posted the matter for November 29 as many of the student petitioners did not get a copy of the Centre's affidavit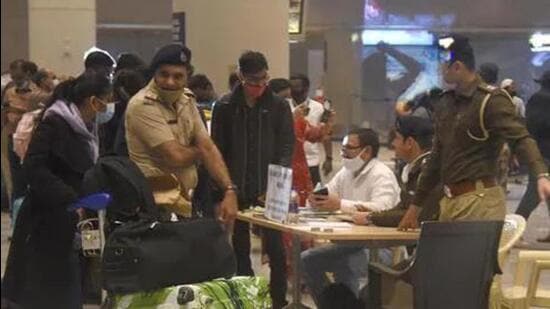 Nearly 15,000 students who returned from war-torn Ukraine are pursuing their undergraduate medical studies online, the Centre informed Supreme Court on Tuesday.
Out of the 15,783 Ukraine-returned students whose information is available with the ministry of external affairs, the Centre said only 640 students are in the conflict zone to complete their course while 170 have got admission in Ukraine's partner universities in other countries.
Responding to a bunch of petitions filed by association of students seeking to continue their course in India due to the ongoing war in Ukraine, an affidavit filed by the ministry of health and family welfare supplied these statistics to the Court.
Also Read: Help Ukraine returnees pursue higher studies: AICTE to varsities
On November 11, the Court had sought information from the Centre on the number of students who have been accommodated in other countries under the academic mobility programme introduced by the government.
Under this programme, the National Medical Commission (NMC) allowed the students to complete their course in other foreign countries even as the final degree would be awarded by Ukraine.
The affidavit filed on Monday said, "Information has been obtained from ministry of external affairs that a total 15,783 Indian students are enrolled in various medical universities of Ukraine, out of which 14,973 students are undergoing online classes conducted by the concerned medical universities of Ukraine, and 640 students are undergoing offline mode of education in Ukraine."
Under the academic mobility programme, the Centre said, "170 students though enrolled with Ukrainian universities are pursuing their education at partner universities in other countries under the academic mobility programme."
Further, the affidavit said, "In addition, there are 382 students who applied for academic mobility but their applications were not accepted either by the Ukrainian university or the receiving partner university." This was for various reasons, including non-payment of fees, poor academic record, or non-availability of free seats.
A bench of justices Surya Kant and Vikram Nath posted the matter for November 29 as many of the student petitioners did not get a copy of the Centre's affidavit.
Meanwhile, petitions were also filed by medical students who returned from universities in China and Philippines during the peak of the Covid pandemic. Due to travel restrictions, these students were unable to physically pursue their course and were seeking benefit of any arrangement that the Centre provided to students in the Ukraine situation.
The bench asked the NMC counsel Gaurav Sharma to take instructions on the petitions filed by students who returned from China and Philippines.
The NMC had on September 6 given its no-objection to the government's academic mobility scheme that gave a choice to students to pursue their course with any foreign university partnering with Ukraine's medical universities.
In September, the Centre had filed an affidavit before the top court stating that students evacuated from war-torn Ukraine cannot be accommodated in Indian colleges as it will be unfair to local candidates who could not make it to these colleges.
Moreover, Centre argued that there existed no regulation under the Indian Medical Council Act, 1956 or the National Medical Commission Act, 2019 to accommodate or transfer medical students from any foreign medical colleges to Indian colleges.
It further clarified that the NMC public notice of September 6 allowing 'global mobility' cannot be used as a "back door entry" to permit migration of students from foreign universities to India.
The Centre's affidavit further claimed that NMC have taken additional steps to allow medical students from Ukraine and China who completed their course before June 30, 2022 but could not take up internship to appear in the Foreign Medical Graduate Exam (FMGE). This is a screening test conducted by NMC required to be cleared by foreign medical students to practice in India.
The Court had asked the Centre to revisit its stand in view of the ongoing conflict in Ukraine.
A month back, the Indian embassy at Kyiv issued a public notification asking Indian nationals to evacuate from Ukraine in view of escalation of hostilities across Ukraine.
Personalise your news feed. Follow trending topics