NHRC seeks Chhattisgarh govt's response on 2007 killing of villagers, burning of houses
Hindustan Times, Raipur |
, Raipur
Ritesh Mishra
Nov 05, 2017 04:36 PM IST
The National Human Rights Commission has sought responses from the Chhattisgarh government on the anomalies by state officials, including police, over the alleged killing of seven persons and burning of houses by the now-disbanded Salwa Judum in Sukma district in 2007.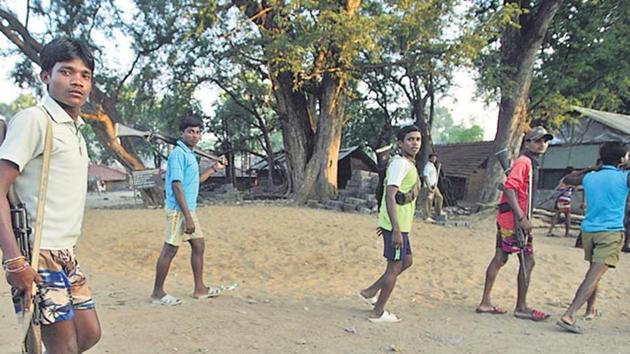 In a letter to the state chief secretary on October 26, the rights body has asked it to respond within eight weeks.
The incident pertains to the alleged burning of houses in Kondasawali, Kamaraguda and Karrepara villages and killing of seven villagers in 2007 by the special police officers (SPO) of Salwa Judum, a force created by the state to counter the Naxalite menace.
Responding to a complaint submitted by Sudha Bhardwaj, general secretary, People's Union for Civil Liberties (PUCL), the NHRC said it was "unimaginable and unacceptable" that the incidents, on which a report was filed only in 2013, did not come to the notice of the village/block/police post/police station level functionaries of Sukma district.
It thus came to the conclusion that the officials knew of the incident soon after they had taken place, but deliberately turned a blind eye to them.
Not taking cognisance of the incidents for seven years strongly showed that these crimes had been abetted by the district or state officials and indicated that they had indeed been committed by the SPOs of Jagarguda base camp, it said.
The rights body also observed that the objective of the state machinery, both the police and the magistracy is not to ascertain the truth as is amply clear in the manner the investigation being conducted and the manner in which the Konta tehsildar has conducted his enquiry.
A mere reading of the tehsildar's inquiry report and the statements recorded by the investigation officers shows that his objective is not to dig out the truth and that he is only conducting a cover-up operation.
"These acts of omission by the public servants of state of Chhattisgarh constitute a gross violation of human rights of the deceased residents of village Kondasawali, Kamaraguda and Karrepara and of those residents of these villages whose houses/huts were burnt," the NHRC observed.
However, before it took a final view in the matter, it had decided to seek responses from the Chhattisgarh government to explain the anomalies of the officials.
The commission also know the name of patwaries, naib tehsildar, tehsildar, block development officers and other officers who were posted in this region from 2007 to 2013, it said.