NIA will formally take over Mangaluru blast probe, says K'taka home minister
Updated on Nov 24, 2022 05:50 AM IST
Sood said the "objective" of prime accused Mohammed Shariq was "to create a divide between communities".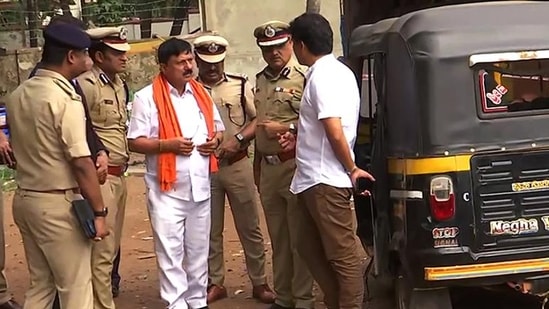 HT Correspondent I Edited by Shilpa Ambardar
The probe into Mangaluru autorickshaw blast case will be formally handed over to the National Investigation Agency (NIA), said Karnataka home minister Araga Jnanendra on Wednesday. He visited the blast spot on the outskirts of the city, along with Karnataka police chief Praveen Sood, and also the hospital where auto driver Purushottam Poojary is being treated.
Speaking to reporters after a meeting in Mangaluru, Jnanendra stated that the NIA officers have been looking at the case since the blast took place. Other central agencies have also joined the probe.
Also Read| Missing Mangaluru blast suspect's mother wishes him to be punished
Sood said the "objective" of prime accused Mohammed Shariq was "to create a divide between communities". "What else was the objective? His aim was to create differences between two communities, there is no doubt. Differences between communities be it Hindu, Muslim, or Christian grow when there is a blast. It means destabilising the country. He definitely intended to disturb communal harmony and unity…," the DGP said.
A day after the blast in Mangaluru, which took place inside an autorickshaw and injured the driver and the bomber Shariq on November 19, Sood had declared the incident an "act of terror with the intention to cause serious damage". Hours later, police had identified the 24-year-old as the bomber.
The home minister said that the police would focus on identifying those who supported Shariq and financed him to carry out subversive activities. "When the terror suspect gets well, many more inputs will come out. The injured auto driver and suspected terrorist are being treated by a team of eight specialist doctors," Jnanendra informed.
Shariq was earlier arrested in December 2020 after pro-terror graffiti was found on a wall and a building in Mangaluru. His associateMazz Muneer Ahmed, aka, Mazz, who was then 21-year-old was also arrested in the same case, police said.
Police also suspect that Shariq used some of the money raised for his legal fight after his arrest in 2020 in the pro-terror case to buy the equipment used to make the bomb.
In September 2022, Shariq's name had also cropped up in another terror-related case. On September 23, Shivamogga police had said that two associates of a person arrested in connection with a stabbing during a clash over Hindutva ideologue V D Savarkar's poster in Shivamogga on August 15 have links to the Islamic State.
One of the four arrested men had named Mazz as an associate, police said. When police took Mazz into custody, he told police that he along with Shariq had conducted trial bomb blasts on the banks of Tungabhadra river.
"The Karnataka police were unable to track Mohammed Shariq even after his name cropped up in a terror plot in September because he did not use conventional modes of communication like cellphones," Jnanendra said, defending the police.
"He was not using a phone to communicate. His communications were personal in nature. Police were trying to find him but could not pick up his trail due to the efforts taken to conceal his tracks," Jnanendra said.
According to Jnanendra, Shariq is suspected to have received guidance to execute an act of terrorism in the state. "He often travelled to Coimbatore. After he fled Karnataka (in August), he went to Coimbatore, Nagercoil, Kanyakumari, Kochi, and other places," the Karnataka home minister said.
With demand growing for an NIA office in Mangaluru, Jnanendra said that the state government "has brought this to the notice of the Centre", and expressed confidence that an office will be set up in this coastal town.
The minister said that the police were working to find the background of the accused, his financiers, and, "the forces which are compelling him to repeatedly do such acts." Jnanendra said Shariq had planned a major blast, but "the bomb exploded midway and did not go off the way it was planned".
"If the entire cooker (carried by Shariq in the autorickshaw) had exploded then it would have led to major damage. He (Shariq) had managed to create a bomb using materials available locally," said the home minister.
Sood said the details of the investigation against the financiers and organisations cannot be revealed now.
"The survival of the accused is important, for we have to interrogate him. We have got many technical materials such as phones and computers. We have to confront him with that," police chief Sood explained.
With the team of eight doctors treating the driver and Shariq, Jnanendra said he expected that the blast accused would be able to speak soon. "He has to recover completely, only then can we get information. Today, we spoke to the doctors and told them to ensure that he recovers. Once he speaks, we will gather most of the information to continue our investigation," the home minister said.
Meanwhile, Karnataka chief minister Basavaraj Bommai on Wednesday said he would write to his counterparts in southern states for concerted intelligence sharing to check terrorism. "A concerted effort has to be made. When I was the Home Minister, I had given a call to all the DGPs of the southern states (for intelligence sharing). Many people commit crime and flee by crossing the state border. Borders are fragile due to which people from Kerala come here and vice versa," Bommai told reporters.
(With inputs from PTI)
Personalise your news feed. Follow trending topics