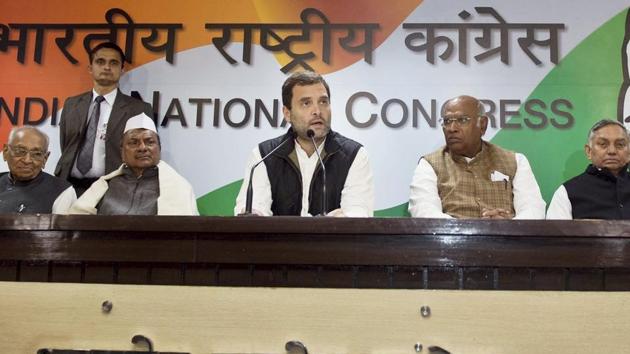 Note ban: Congress seeks white paper from PM, puts forth demands
Seeking a white paper on demonetisation, Congress on Wednesday posed several questions to the Prime Minister including how much black money has come in and put forth a charter of demands including lifting all restrictions on money withdrawal and compensation to farmers, traders and the poor who have "suffered" due to note ban.
UPDATED ON DEC 29, 2016 01:22 AM IST
Congress vice-president Rahul Gandhi on Wednesday attacked Prime Minister Narendra Modi again and demanded the release of a "white paper" on demonetisation to bring out the truth about the note ban.
Daring Modi to reveal the actual amount of cash recovered since the announcement to scrap `500 and `1,000 currency notes, Gandhi said, "Modiji should reveal how much black money has been recovered post November 8?"
"Modiji has performed demonetisation 'yagna' for 50 families and one per cent super rich people of the country," Gandhi told reporters here at the party headquarters on the Congress' Foundation Day.
"Many people have suffered and for this loss, the government should give compensation," Gandhi said.
He asked Modi to answer about the "economic loss to the nation on account of demonetisation", and pulled out a list of demands.
"How many jobs and livelihood have been lost since this policy has been announced? How many lives have been lost due to demonetisation? Why has the government not paid any compensation to the families of the deceased?"
Gandhi asked the Prime Minister to answer these questions in the "white paper".
Rahul Gandhi who has strongly opposed the Centre's demonetisation move asked, "What was the process of consultation and preparedness followed prior to the implementation of demonetisation?
"Why were experts, economists or the Reserve Bank of India not consulted before unleashing this draconian policy upon the people?".
He also said, "Will it place the names of all persons, institutions, and entities that deposited `25 lakh or more in their bank accounts in the six months preceding November 8, 2016?"
Naidu retorts
Hitting back at Gandhi over his criticism, Union Minister M Venkaiah Naidu said the opposition party should "introspect" its contribution towards ills like corruption and black money.
The Union information and broadcasting minister said the party should give answers as it has all along "patronised" black money and corruption.
Close