Now panchayats to manage water usage, monitor levels, devise plans for recharge
Updated on Jun 15, 2018 11:18 PM IST
Under Atal Bhujal Yojana, which aims to decentralise water management, panchayats in 8,350 villages in seven states of the country facing severe water crisis will soon manage water usage in their areas, monitor water levels and devise plans for its use and recharge.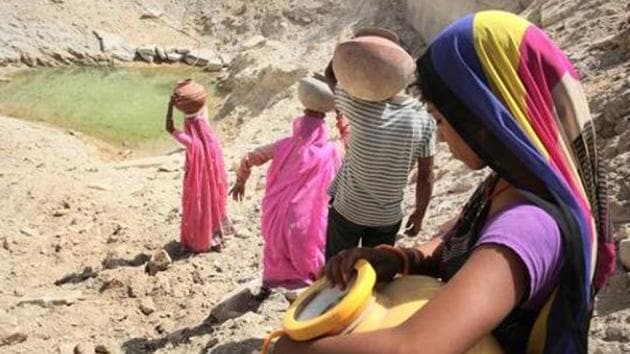 As many as 8,350 villages in seven states confronting a severe water crisis will soon have panchayats managing the use of water in their villages as part of a World Bank-backed project aimed at conserving deleting groundwater resources.
According to officials, the scheme will soon be launched in Gujarat, Haryana, Karnataka, Maharashtra, Uttar Pradesh, Rajasthan and Madhya Pradesh, which together represent about 25% of the number of over-exploited, critical and semi-critical groundwater blocks in India.
Under the Atal Bhujal Yojana, which aims to decentralise water management, the panchayats will monitor water levels and devise plans for its use and recharge.
"Villagers will make water usage plans according to available water level at each place," said UP Singh, secretary, water resources.
"Under the scheme, 8,300 gram panchayats in 78 districts and 193 blocks will have their own water management schemes. The objective of the scheme is to recharge groundwater sources and ensure efficient use of water by involving people at the local level," he said.
The move follows a government report showing a 61% decline in water level in wells in India between 2007 and 2017. The ₹6,000 crore groundwater conservation project, which was approved by the World Bank on June 6, involves "bottom-up planning" that will include formation of water user associations in each village.
The associations will be involved in monitoring and disseminating ground water data and later planning water budgets, preparation and implementation of gram panchayat-specific water security plans and awareness activities related to sustainable groundwater management.
According to Singh, each of the villages will be provided a peziometer, a device used to measure ground water at specific points. Village associations or a pani (water) panchayat will measure the water in each village and put in place a recharge system according to the kind of ground water system found in the area — alluvial and hard rock aquifers.
The Centre will support half of the total project cost and rest of the budgetary cost will be shared by the World Bank.
The scheme is to be implemented over a period of five years from 2018-19 to 2022-23. It has been recommended by the expenditure finance committee and the water ministry will be seeking Cabinet approval for the project shortly.
Officials from the ministry said ensuring active community participation in groundwater management is a key objective of the scheme.
The implementation of the scheme is expected to have several positive outcomes -- a focused and integrated community-based approach for addressing issues related to groundwater depletion, and adoption of efficient practices to reduce use of groundwater for irrigations, among others.
Personalise your news feed. Follow trending topics