One year after police firing in Mandsaur, anger among farmers persists
Aug 12, 2019 12:02 PM IST
Six farmers were killed in Mandsaur in Madhya Pradesh during their agitation for better price for their produce in June last year.
Six farmers were killed in Mandsaur during their agitation for better price for their produce in June last year. One year down the line, the city has continued to draw national attention with a bevy of leaders descending here as it has become a focal point of farmer's agitation in the state, but the moot cause of farmer's angst, i.e. depressed prices of farmers' produce, still persists.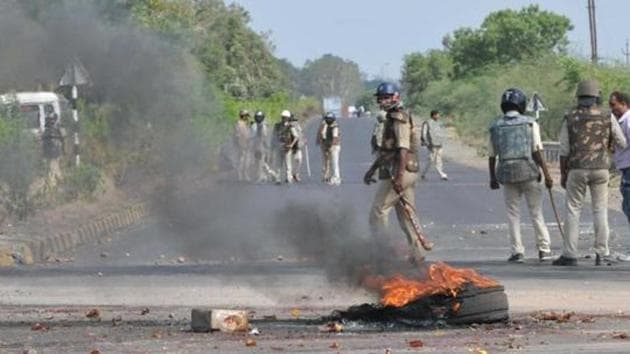 "Farmers are still angry. Last year, it was depressed soyabean and onion prices that had agitated the farmers; this year, crashing garlic prices, which are being sold at ₹2 per kg, is the main reason for farmer's anger. Nothing has changed for the farmer, and the Bhavantar scheme has helped the trader more than the farmer," says local journalist Ajay Lodha.
Since the Bhavantar scheme was introduced in August 2017, over 6.35 lakh farmers have registered themselves and ₹1,900 crore has been distributed for farmers till March 2018.
The death of six people, four from dominant Patidar community, remains a sore point. The families of the deceased have received compensation of ₹1 crore, which has been kept in fixed deposit, but their anger still remains. Dinesh Patidar of Barkhedapanth, 10 km away from Mandsaur city, whose son Abhishekh (17) died in the police firing, said, "We are still angry that no action has been taken against the policemen who killed my son," he said.
Not surprisingly, family members of all the six deceased are expected to take part in Rahul Gandhi's rally in Mandsaur on Wednesday.
The anger also persists because of the 1,200 case bonds under Section 107/16 of CrPC in the district and 400 cases registered against villagers for the June 2017 violence.
"Some of us had to go to jail, and though police are not acting tough now and we have received bail, we have to go to court for our cases," said farmers' leader Amritlal Patidar, against whom there are 23 cases.
A timeline of events leading up to and since the Mandsaur agitation:
June 1, 2017: Farmers start agitation for better price for their produce.
June 2-3, 2017: Reports of farmers spilling milk, destroying vegetables come in from various part of the state.
June 4, 2017: Reports of vehicle burning from Ratlam. Police do not take action against farmers.
June 5, 2017: Farmers and traders clash in Pipliyamandi. Farmers burns half a dozen shops.
June 6, 2017: Protest in Bai Chaupati, Pipliamandi turns violent and two farmers are shot dead by CRPF. Mob gheraos police station and three more agitators are killed in police firing. One killed in Daloda, Mandsaur in police lathi charge, curfew imposed for six days.
June 8, 2017: Rahul Gandhi stopped from entering Mandsaur, arrested and released
June 9, 2017: Justice JK Jain commission appointed, which completed its term in May 11, 2018. Report awaited.
June 13, 2017: Jyotiraditya Scindia stopped from entering Mandsaur to meet family of victims.
May 2, 2018: Farmers' organisation announces statewide strike from June 1-10. Government starts case bonds on villagers. Over 7,000 notices issued by local administration and thousands of farmers filled up the bonds.
June 1, 2018: Farmers start Gaon Bandh amid strict police vigil.
June2-5, 2018: Strike gathers momentum as most grain mandis in Malwa region remain closed, supply of milk and vegetables drop considerably leading to spike in prices.
June 6, 2018: Rahul Gandhi's rally scheduled in Pipliayamandi, near Mandsaur, to pay homage to the farmers killed last year.