Curfew ordered in Jammu-Kashmir's Srinagar till August 5 over intel reports of 'violent protests'
Hindustan Times, Srinagar |
Ashiq Hussain | Edited by Arpan Rai
Aug 03, 2020 10:59 PM IST
Meanwhile the Covid-19 related restrictions, which were imposed from July 31 till August 5, have been extended up to August 8.
Fearing violent protests from separatists on the first anniversary of the revocation of Article 370 in Jammu and Kashmir on August 5, the Srinagar administration on Monday evening imposed curfew till Wednesday with immediate effect.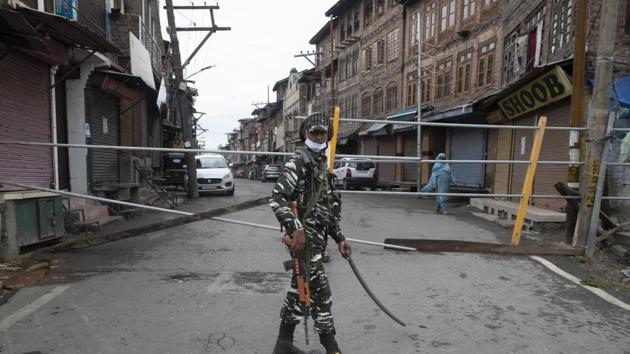 Additionally, the Covid-19 related restrictions, which were imposed from July 31 till August 5, have been extended till August 8. August 5 will mark a year of abrogation of Article 370 and Article 35A, ending the special status of Jammu and Kashmir. Article 370 and Article 35A, for close to seven decades, have defined the state's relationship with the Union, were effectively rendered null and void on August 5.
According to the officials, separatists and Pakistan sponsored groups are planning to observe August 5 as black day, raising apprehensions of violence.
Also read | Jammu and Kashmir: Now a territory of the Union
" There are specific inputs about violent protests endangering public life and property," an order issued by district magistrate Srinagar Shahid Chaudhary quoting a report of SSP Srinagar stated.
He said such gatherings would also be detrimental to the efforts of containing Covid-19.
"The report has further made a case that to prevent such violence and loss of life and property, it is essential to impose curfew in the district," the DM said, ordering complete restrictions on public movement and curfew in the district.
Business establishments, markets and shops were closed while public transport was off the roads. The movement of people was strictly regulated and there was heavy development of security forces on roads.
Also read: It's historic, says Amit Shah as Rajya Sabha strips Kashmir of special status
Former chief minister Omar Abdullah said he expects restrictions across the Kashmir valley.
"The preparations start a full 24 hours earlier this year compared to 2019 with Srinagar, and I presume the same is being done across the valley, being placed under strict curfew from tonight for the next two days," he tweeted.
Concertina wires and road blocks sealed roads at many locations and at places police were seen asking motorists to turn back.
Shaeena Akhtar, a 42-year-old woman of Old City, said that the severity of restrictions which used to be associated with Covid-19 pandemic suddenly intensified from Monday. She said that the security forces on roads were harsher and even manhandled people.
"My young daughter who was pillion riding behind a close relative was chased by baton-wielding security men at Hawal. They were really scared," Akhtar said.
"Since August 5 is coming, they are forcing people to stay indoors," she said.