Imran Khan calls India's statement cancelling talks 'arrogant', his minister makes another offer
Hindustan Times, New Delhi |
Rezaul H Lasker
Sep 23, 2018 12:08 AM IST
India will have to decide on the future course of engagement with Pakistan but Islamabad is ready to discuss all outstanding issues as it believes wars and hostility provide no solution, says Pakistan information minister Fawad Chaudhry.
Pakistan Prime Minister Imran Khan said he was disappointed at India's response to his peace overtures, termed it "arrogant" and "negative", and said "all my life I have come across small men occupying big offices who do not have the vision to see the larger picture", a comment that is certain to raise hackles across the border.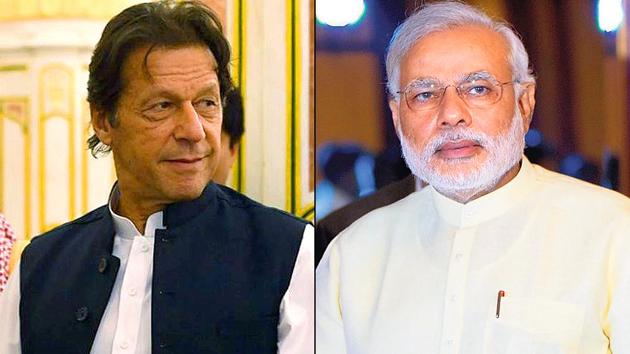 Khan's response on Twitter came even as Pakistan's information minister Fawad Chaudhry said on Saturday that despite the "unfortunate cancellation" of the planned meeting of foreign ministers on the sidelines of the United Nations General Assembly in New York, Pakistan is ready to open the border for Indian pilgrims to access Gurdwara Darbar Sahib in Kartarpur.
India will have to decide on the future course of engagement with Pakistan but Islamabad is ready to discuss all outstanding issues as it believes wars and hostility provide no solution, Chaudhry said in a phone interview a day after India called off a meeting between the foreign ministers of the two countries over terror-related concerns.
The "real issue" between the two sides remains Kashmir, he said, adding that Pakistan is "ready to discuss everything".
"There are several ways we can handle things. One way is we could go to war, both countries have atomic weapons and those who survive can handle the outstanding issues. But it is foolish to think we can go to war," said the minister, who is considered to be close to Khan.
"The other way is the approach advocated by (Indian national security adviser Ajit) Doval of 'defensive offence' where both sides use measures to internally weaken each other. Or we can sit and discuss all issues between us and find a solution."
He added: "We are ready to discuss everything. We have fought three wars over the past seven decades and we can't change our neighbours. It is for India to decide.
"But then elections are coming up in India and maybe anti-Pakistan slogans sell in India. Anti-India slogans don't sell in Pakistan."
Chaudhry's claims are interesting because New Delhi thinks that even if the civilian government of Pakistan wants peace, Rawalpindi General Headquarters (GHQ), its army command, calls the shots, especially where the country's relationship with India is concerned.
Commodore (retired) C Uday Bhaskar, director of Society for Policy Studies, said terror had once again disrupted tentative attempts at engagement between the two sides. "The reality is that India-Pakistan relations have been hostage to terrorism for almost 20 years and both sides have been unable to surmount this challenge," he said. But Bhaskar said it was "unlikely Imran Khan would have been able to make a gesture (for peace with India) without keeping the army in the loop".
India on Friday called off the planned meeting between foreign minister Sushma Swaraj and her Pakistani counterpart, Shah Mahmood Qureshi, citing the killing of security personnel by Pakistan-based entities and the release of 20 Pakistani stamps glorifying slain Hizb-ul-Mujahideen commander Burhan Wani.
Chaudhry said Pakistan too had concerns about terrorism purportedly backed by India in Balochistan. "Our intelligence agencies believe India is sponsoring the movements in Balochistan and then there is the case of (Kulbhushan) Jadhav… This issue of cross-border terrorism goes both ways," he said.
He added that the "real issue between the two countries is Kashmir" and "lakhs of Pakistanis" back the "struggle" in Jammu and Kashmir. "Blaming everything on Pakistan is not right, India too should correct its mistakes. Blaming us for the administrative, financial and other problems in Kashmir is ridiculous," he said.
Chaudhry also said it would not be possible for both countries to guarantee that there wouldn't be terror attacks whenever efforts are made for peace talks.
"Our understanding is that the abrupt cancellation of the meeting reflects the confusion within the government in Delhi and the divisions on this issue. You can't accept (a proposal for a meeting) and reject it within a day," he added.
Chaudhry said peace efforts had suffered a "big hit" because of the meeting being called off. "Pakistan and India should have moved forward," he said.
He said India should take advantage of the current consensus between Pakistan's civilian and military leadership on foreign policy issues. "The government and military are very close and there have been few occasions when their relations have been as exemplary as now," he said.
Prime Minister Imran Khan's policies are linked to the economy and not security, Chaudhry said. "He (Khan) wants to bring crores of people above the poverty line and the latest developments have jeopardised peace efforts in the whole region," he said.
Despite the latest developments, Pakistan is prepared to open the border at Kartarpur to allow Indian pilgrims to access Gurdwara Darbar Sahib, believed to have been built at the site where Guru Nanak died. "We have completed all the arrangements. This is an issue of the ordinary people, Sikhs and other Indian pilgrims, and an issue of faith. They shouldn't suffer and we want to formalise the informal proposal the Pakistan Army chief made to (Punjab state minister Navjot) Sidhu," Chaudhry said.
Chaudhry added: "We have extended a hand to India but you need two hands to clap. If India doesn't want to, nothing will happen."
"Exciting news! Hindustan Times is now on WhatsApp Channels
Subscribe today by clicking the link and stay updated with the latest news!"
Click here!
Get
Latest India News
along with
Latest News
and
Top Headlines
from India and around the world